Things You'll Need
Pajama pants

Tape measure

1-inch elastic

Thread

Needle or sewing machine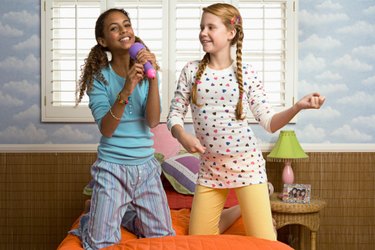 Some pajama pants have loose waistlines and leg openings, which is not as secure as elastic. Converting loose pants to elastic-banded pants is entirely possible. You need to double-over some fabric at the waistline and the hems of the pants. This project does not work on pants that are already short in those areas. Most pajama pants leave plenty of room to spare, though.
Step 1
Measure your waist and ankles with a tape measure.
Step 2
Cut a piece of elastic one inch shorter than your waist measurement.
Step 3
Cut two pieces of elastic one-half inch shorter than your ankle measurement.
Step 4
Stitch the ends of each elastic bands together, making three loops.
Step 5
Turn the pants inside out.
Step 6
Slide the waistband loop of elastic over the top of the pants.
Step 7
Fold the waistband over 1.5 inches.
Step 8
Slide the band up to the fold. Pin the fold in place over the elastic. The elastic is shorter than the fabric, so the fabric will bunch in places. That is normal.
Step 9
Sew along the pinned edge of the waistband, making the seam beneath -- not on -- the elastic. Since the fabric is bunching slightly, you have to hold the fabric straight and flat as you stitch. It does not need to be straight and flat everywhere -- just in the area you are stitching. Straighten and flatten as you move along the waistband. Let it bunch everywhere else.
Step 10
Move to the first leg of the pants.
Step 11
Slide one of the ankle loops of elastic over the end of the inside-out pan legs.
Step 12
Fold over 1.5 inches of the hem of the leg.
Step 13
Slide the fabric up to the fold and pin the fold in place over the elastic. Sew along the pinned edge of the hem, making the seam beneath -- not on -- the elastic. You will need to perform the same straightening and smoothing tactic here, as well.
Step 14
Move to the other leg and repeat the process. When finished, turn the pants right-side out.