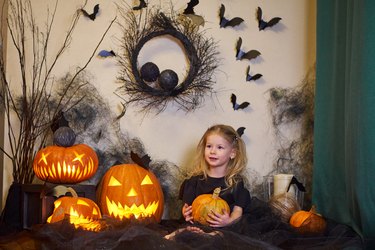 Halloween is a time when adults dress up for parties or go trick-or-treating with the kids. While you might go all out for an adult event, consider dressing up in little kid costumes as an economical alternative to renting or buying an extravagant outfit that you might only wear once. With a few accessories, you can turn your leggings, jeans and oversized shirts into an expression of a fondly remembered childhood.
Toddlers are that transitional stage between babies and kids when they might still wear diapers and carry a bottle or pacifier. Since toddlers tend to be short and a bit chunky, oversized clothes help convey the sense of a young child. Footed one-piece pajamas or a long, warm nightgown, a teddy bear and "flashy shoes" that light up with every step will keep you warm while you're traveling from door to door for treats.
Add two or three layers of ruffles to pink or blue sweatpants or a large fabric bow to the back of your leggings for a toddler dress-up statement. Finish the outfit with a polka-dot T-shirt or matching sweatshirt to make a sweet combination. Alternatively, put on a bodysuit and then layer a frilly tutu over leggings and practice dancing like a ballerina.
Classic Little Kid Outfits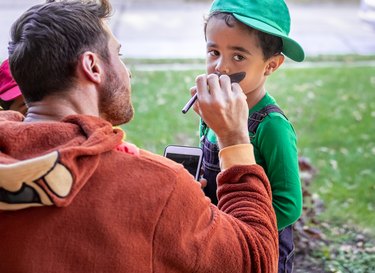 Reaching back to your own childhood provides many ideas for the classic little kid outfits. Start with the old-school black and white oxfords, which are also available in adult sizes and wear white knee socks and an oversized smocked dress in a gingham or flower print. A white Peter Pan collar, a bow in your hair and a doll in a matching dress make you look like a classic little kid.
If dresses aren't your style, consider a farmer boy look. Put on jeans with rolled cuffs or denim overalls, a checked or plaid shirt and a cowboy hat. Add freckles with a light brown eyebrow pencil. Don't forget your warm jacket if it's chilly outside.
Alternatively, take inspiration from movies or television. To dress like the little kid from "Up," look for a light yellow or khaki shirt and cap, tan or brown shorts and boots and an orange scarf. Make a merit badge sash with a multitude of buttons. Carry a triangular orange flag on a stick and a few brightly colored helium balloons attached to your tan or brown backpack.
To make yourself into a modern little kid, put on your Vans or Converse sneakers and baggy jeans. Add a T-shirt or hoodie featuring your favorite superhero or athlete or put on a football or hockey jersey and a baseball hat. If you're a dedicated superhero fan, add a colorful towel or small blanket as a cape. Carry a skateboard, football, basketball or hockey stick with you if you're a sports fan or your favorite book or comic book if you prefer.
For a girly look, put on your jeans or leggings and add boots or rain boots. An oversized sweater, bow in your hair and small backpack or purse complete the look. Pinks, grays and purples tend to be popular girl colors, but don't discount blues and yellows. Boys dressed in blue and girls in pink is a modern invention, so don't let it hold you back when you put together your Halloween costume. Wear your happy colors and put on a big smile to make you fit right in with the other big and little kids.