Things You'll Need
Crochet cotton thread

Cross charm

Crochet hook size US F

Steel crochet hook size US 1 or 2

Large beads, 6

Small beads, 53

Scissors

Embroidery needle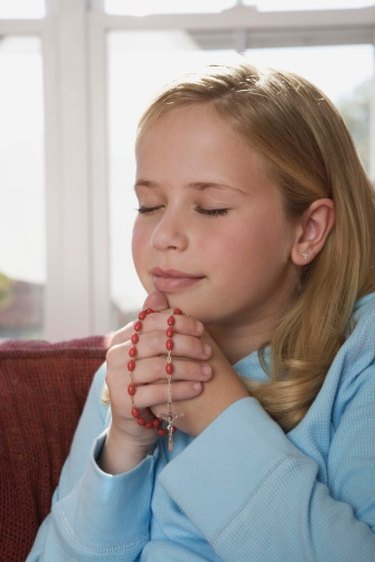 A rosary is an important item to members of the Catholic faith. Add significance to your rosary by crocheting it yourself. You will need intermediate level crochet skills to crochet a rosary, but once you learn the basics of the pattern, you will be able to crochet one in a few hours' time. Make a crocheted rosary for the members of your family, or give them as gifts to your friends in the Catholic Church.
Step 1
Attach the crochet cotton thread to a cross-shaped charm or pendant by threading your size F crochet hook through the ring on the charm and making a slip stitch around that ring with the thread.
Step 2
Make the small length of rosary attaching the cross to the body of the rosary. To do this, make three chain stitches, then crochet around a large bead (see Tips), then make three more chains. Crochet around a little bead, chain two, crochet around a little bead, chain two, crochet around a little bead once more. Chain three, crochet around a large bead, and chain three more.
Step 3
Crochet a triangle for the rosary. To do this, chain one more. Single crochet in this chain, then turn your work. Chain one and make two single crochets in the last single crochet; chain one and turn. Make two single crochets in each single crochet. Chain three.
Step 4
Crochet around a small bead and chain two a total of 10 times; chain three and crochet around a large bead. Repeat this step three more times.
Step 5
Crochet around a little bead and then chain two. Repeat this step nine more times.
Step 6
Chain three, then join your thread to the triangle with a slip stitch. Cut your working yarn and pull the tail all the way through the slip stitch to secure it. Use an embroidery needle to weave in any loose ends.
Tip
For the smaller beads, use pony beads or something equivalent in size. Use larger plastic or wooden beads for the large beads. To crochet around a bead: Pull on your existing stitch to loosen it slightly, then remove the F hook from that stitch. Switch to the steel crochet hook; insert this hook through the loose stitch and then slide the bead onto the steel hook. Grab the working yarn with the steel hook and pull it through the hole in the center of the bead. Switch back to the F hook and yarn over, then draw through all loops on the hook. This traps the bead inside a single crochet stitch. You do not need to switch hooks if your beads are large enough that the F hook can fit through them.