Things You'll Need
Twelve ostrich feathers

18 feet of fish tubing

10 hair ties

Glue and glue brush

Bottle of glitter

Large cardboard box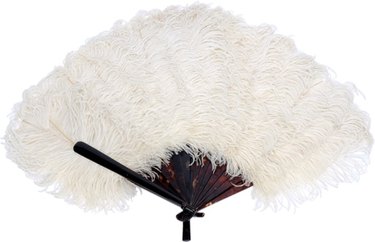 Burlesque fans can cost up to $200 at standard outlets; save money by making your own. Also called "Sally Rand fans," burlesque fans typically are made with ostrich feathers and acrylic or bamboo staves. When you follow these simple steps, you can make your own burlesque fan for less than fifty dollars.
Step 1
Cut two half-moons out of a cardboard panel from the cardboard box. Make sure the two half-moons are exactly the same size. For this tutorial, make the half-moons 20 inches in length and 4 inches wide.
Step 2
Snip the fish tubing into six pieces. Each piece should be 35 inches in length. Glue each piece to one side of the cardboard half-moon. Keep the pieces approximately 5 inches apart and flush with the top. The top of the half moon is the peak of the arc. Imagine the half-moon curving downward toward the handle of the fan. Glue the other half moon cardboard piece to the opposite side of the tubing.
Step 3
Insert twelve ostrich feathers into the fish tubing. Use two feathers for each tube. Slide the stem of the feather into the tube until it is secure.
Step 4
Brush a thin layer of wet glue onto the surface of each side of the cardboard half moon. Liberally pour glitter over the glue until the entire half moon is covered with glitter on both sides. Let the glitter dry for three to five minutes.
Step 5
Secure the bottom of the fan by double-wrapping ten black hair ties around the base of the fish tubing.
Tip
If you want to make sure the ostrich feathers are secure in the tubing, drop a few drops of glue into each tube before sliding the feathers inside.