Things You'll Need
Screwdriver

Tape measure

Doors

Hinges

Mounting hardware

Carpenter's level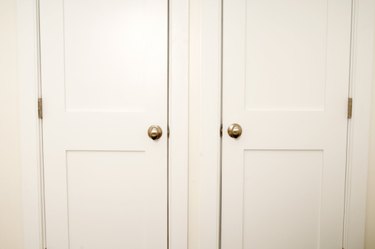 Sliding closet doors are convenient because they slide to open and take up little space. However, the doors do not fully open and allow access to only half of the closet at a time. If space is of less concern than access to the items in the closet, change them to double doors. This project takes about one day to complete and involves only basic carpentry skills and tools.
Step 1
Take off the sliding doors by lifting them up and off the tracks inside the closet. Set the doors aside.
Step 2
Unscrew the sliding tracks from the top of the door jamb and the guides on the bottom of the closet doorway using a screwdriver. Remove the track and guides.
Step 3
Size up the proper double doors by measuring the height and width of the doorway with a tape measure. Find two doors matching the height and width of the closet using the dimensions measured.
Step 4
Set the doors inside the closet doorway and use shims to level and position the door properly. Use a carpenter's level to ensure the door is straight on all sides. Mark three corresponding positions with a pencil along the door jamb and the door itself to install the hinges. Make one mark a foot from the top, one a foot from the bottom and one in the center of the door, on each door and side jamb.
Step 5
Remove the hinge pins from the hinges to separate the hinge panels. Mount one side of the hinge to the door in each position marked by your pencil in the previous step. Install the three hinges on each side of each closet door jamb, using the marks you just made. Use screws and a screwdriver to complete this step.
Step 6
Reposition the doors in the closet doorway. Match each hinge and insert the hinge pin to hang the door. Check the door for level with a carpenter's level and adjust as necessary to complete the installation.