Things You'll Need
Knobs

Plastic template

Masking tape (optional)

Pencil

Drill bit

Drill

Screwdriver

Tape measure (optional)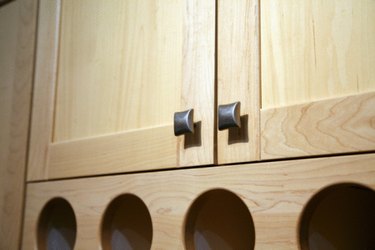 Cabinet knobs are practical pieces of hardware that also can add an element of style and elegance to a kitchen. They come in a wide variety of styles and finishes and not only can change the look of a cabinet but, in many cases, are needed to open the cabinet doors. There is often a problem with the placement of cabinet knobs, however, and many people are afraid they will not be even. Fortunately, there is a simple way to attach the knobs to your new cabinet doors that will make friends think you had them installed professionally.
Step 1
Buy the knobs that you want to put on your new cabinet doors. You typically will not have to worry about purchasing screws, since most companies include the screws you need in the packages with the knobs.
Step 2
Purchase a plastic template from a home-improvement store. You generally can find these inexpensive devices in the same aisle where you find the knobs.
Step 3
Choose the location on the cabinets where you want to place the knobs. Knobs on kitchen cabinets are usually placed 2½ to 3 inches from the lower corner of the cabinet door on the side opposite the hinges.
Step 4
Place the template on the door and select the hole that is closest to where you want the cabinet knob to go. You may wish to cover the other holes with masking tape to ensure that you do not use the wrong hole once you begin.
Step 5
Use a pencil to trace an outline of the hole from the template onto the cabinet door.
Step 6
Select a drill bit that is about the same size as the screw for the knob. Drill the hole from the front of the cabinet door to the back. Apply steady pressure, but do not use force to drill the hole or the wood will tear on the back as the bit exits.
Step 7
Use a screwdriver to attach the knob to the cabinet door with the screws provided in the package. Continue the same way for the knob on each cabinet door.
Warning
If you are unable to find a template at the home-improvement store, you may wish to use a tape measure and a pencil to measure and mark where you wish to place the cabinet knobs. This method is not as accurate as the template, however, and if you do not pay close attention to what you are doing, you may accidentally drill the holes in the wrong place.