Things You'll Need
Phillips screwdriver

Latch extension link

Latch sleeve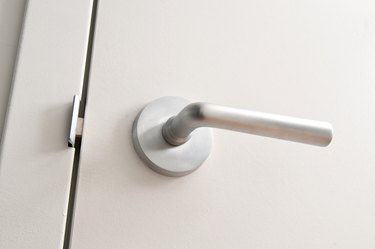 Schlage is one the most popular and trusted door lock brands. When you install Schlage locks, the hole cutout in the door where the lock sits is measured from the edge of the door to the center of the cut-out hole on the face of the door. This is called the backset. The latch goes through the edge of the door and end should sit at about the center of the cut-out on the face. There are different measurements for backsets and door locks are classified by backsets. When you are installing a residential Schlage lock you cannot adjust the backset of the latch so make sure that you measure the door and determine the backset before you purchase your lock. If you are installing a commercial lock in a door with a prep at a different backset than your latch, you can get a latch extension to adjust the backset of your latch.
Step 1
Remove the screws in the latch faceplate and pull the latch out of the edge of the door.
Step 2
Slide the teeth of the latch extension over the latch prong to connect the latch to the extension. The extension looks like the latch body and has the same prong on the other end for the lock assembly teeth to grab.
Step 3
Slide the protective sleeve over the bodies of the latch extension and the latch body until it sits flush against the latch faceplate.
Step 4
Insert the extended latch assembly into the hole cutout on the edge of the door until the latch faceplate sits flush in the square cutout. Use the Phillips screwdriver to tighten the screws in the faceplate and secure it.
Step 5
Check the placement of the latch in the lock hole cutout on the face of the door to ensure that it sits in the proper location, which should be about the center of the lock hole cutout.
Tip
You will have to order the proper latch extension and protection sleeve from Schlage to match the lock model and series that you are installing.