Things You'll Need
Carpet cutter

Carpet binding

Tape

Scissors

Hot glue gun and glue sticks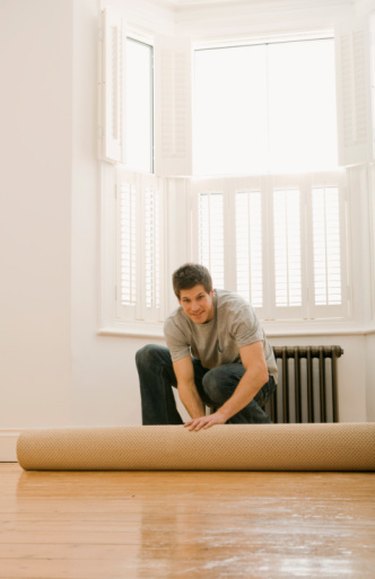 Binding the edges of rug is traditionally done with a large commercial sewing machine and heavy-duty thread. Since most people do not have this equipment at home, it is necessary to give the rug to a professional carpet company to bind, which can take several days or weeks. However, there is a no-sewing method of binding rugs that has similar results and appearance as the sewn version. This method of binding requires the use of a hot glue gun only, with no other special tools. You can bind a rug in a day or less with professional-looking results.
Step 1
Trim the edges of the rug with the carpet cutter to eliminate any frayed edges on the rug. Make sure the edges of the rug are completely straight.
Step 2
Peel back the adhesive tape from the paper side of the binding strip. If your strip does not have this adhesive tape, ignore this step. Place the edge of the rug over the adhesive side of the paper.
Step 3
Place the binding strip in the middle of one of the rug's edges. This will help achieve a more professional look.
Step 4
Press the binding into the rug's edge until you reach the corner. Don't cut the binding at the edge. Cut the paper piece and bring the binding around the corner. Press the binding into the corner and around the edge.
Step 5
Cut the excess binding when you have covered all edges with the binding and have returned to the original edge. Trim the binding so that the pieces match exactly. Fuse the two ends together with hot glue.
Step 6
Apply a line of hot glue between the rug and the binding. Press the binding firmly against the rug while the glue dries. Hold each section in place for about 30 seconds. Glue the entire rug to the binding in this fashion.
Warning
Do not launder the rug in the washing machine. This can ruin the rug and damage the hold between the rug and binding.