Things You'll Need
Shoebox with removable lid

Paintbrushes

White craft glue

Construction paper

Scissors

Craft paint

Miniature figures

Glitter

Adhesive foam letters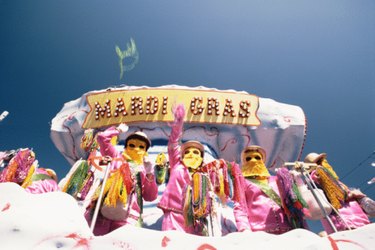 Whether you are trying to plan a full-sized float for a parade, or you just want to create a model of a parade float for decorative purposes, you can use a shoebox as a base for a miniature version. Shaped like miniature flat-bed trailers used for parade floats already, the shoebox will look pretty convincing once you have decorated it. Use craft supplies and tools to decorate your float for any holiday or occasion.
Step 1
Remove the lid from a shoebox and flip the shoebox upside down.
Step 2
Apply white glue to the bottom surface of the shoebox and spread it out evenly with a paintbrush.
Step 3
Lay a sheet of construction paper over the bottom of the shoebox and smooth it over the glued bottom with your hands. Cut away the excess paper on the sides with scissors.
Step 4
Trace one short side and one long side, twice each, onto construction paper with a pencil. Cut the traced rectangles out with scissors. You should have two of each size.
Step 5
Glue the rectangles to the four sides of the shoebox. Use the same spreading method with a paintbrush that you used on the bottom of the box.
Step 6
Cover the lid of the shoebox, inside and out, with construction paper, using the same process as you did with the box, if you want to create a back wall for your float. To attach the wall, turn the open end of the lid toward the box and fit a short side of the box into the lid. Apply glue to that short side if you want the wall to be permanent.
Step 7
Glue figures to the box if you want to add people. If your float is holiday related, use small toys or clay figures that have that holiday theme.
Step 8
Paint parts of the box with craft paint to add images, designs and features, like pretend ponds, rainbows or snow.
Step 9
Draw designs or simple dots with the tip of the glue bottle and sprinkle glitter over the glue to allow the designs to sparkle.
Step 10
Spell out a holiday greeting or the name of your organization with adhesive foam letters on the front and sides of your float.