Things You'll Need
Long plaid skirt or conservative dress

Blouse with buttons up the front or back

Cardigan sweater

Pantyhose

Loafers

Glasses on a chain

Chalk or flour

Pencil

Textbooks

Apple

Ruler

Notebook

Briefcase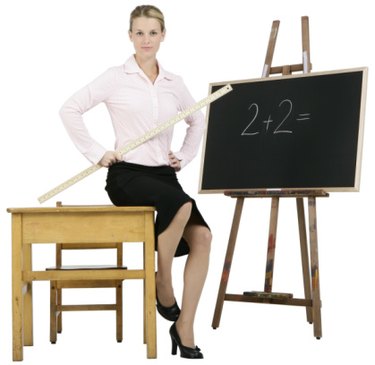 Dressing like a teacher for Halloween is so simple that you may already have the parts of this costume hanging in your closet. If you need a costume quickly, it's a fast option that can turn out really fun, depending on what your idea of the classic teacher looks like. A teacher costume can also be an option for kids. Homemade costumes usually cost less than store-bought ones, so if you are pressed for time and money, pull together this simple look.
Step 1
Identify your best teacher clothes. A stereotypical teacher would wear a button-down blouse, a long plaid skirt or conservative dress, cardigan sweater, pantyhose and loafers. If you don't have these exact items, poke around your closet to see what you can come up with that looks conservative and authoritative.
Step 2
Accessorize your teacher look. Find some glasses, and put them on a chain around your neck. Pull your hair into a tight bun, and skip the makeup. Rub your hands into some chalk or flour, and wipe the dust on your clothes to look like you've been hard at work writing lessons on the blackboard. Stick a pencil in your bun.
Step 3
Grab some props. A few textbooks, an apple or a ruler are all classic teacher items. Carry a small notebook with you, and pull the pencil out of your bun intermittently to write detention notices and hall passes to "students" you see out for Halloween. For children, have them carry a briefcase to put candy in.