Things You'll Need
Paper

Pencil

Scissors

Craft paint

Paint brushes

Picture frame (optional)

Stapler and string (optional)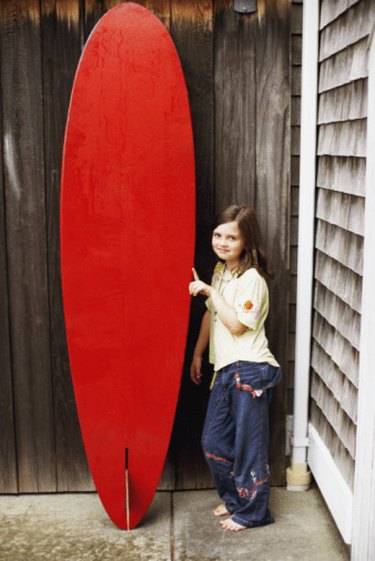 Surfboard decor brings the feel of the beach indoors to your home or office.Consider designing your own surfboard decor. Cardboard can be used to create surfboards for your home. Customize each piece to fit in with the color and style of your room. You can also save money by doing the work yourself.
Step 1
Find clean, sturdy cardboard for your project. Many stores give out cardboard boxes for free. You can also purchase them from office supply stores or the post office.
Step 2
Create a surfboard template. Fold a piece of paper in half, and at the fold, draw a long half oval. The nose of the surfboard will be more pointed than your average oval. The opposite end is squared off. Cut along the line and unfold the paper to reveal a symmetrical surfboard template. Create different size templates if making multiple surfboards.
Step 3
Lay the surfboard template on top of a piece of cardboard. Use a pencil to trace around the template. Remove the paper and cut the surfboard out of from the cardboard piece.
Step 4
Paint the surfboard with solid color. Allow the first coat to dry before applying another coat. Allow the paint to dry.
Step 5
Paint on lines and other decoration.Frame the surfboard in a shadow box and hang that, or staple each end of a string onto the surfboard and hang it like a sign.
Tip
Bright paint colors like yellow, green, orange and red will stand out. When decorating the surfboard, use stencils to transfer images or stickers to create interest.