Things You'll Need
Bowl

Cutting board

Knife

Fork

Food processor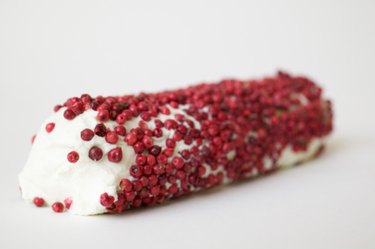 In recent years, with the rise of the food programs on television and food culture in general, goat cheese has made its way from ethnic markets to the mainstream. It is available in many forms, from aged imported grating cheese, to mild spreadable soft cheeses. The latter are widely available in supermarkets across the country, and can be used on cheese boards or in various appetizers and canapes. Usually the cheese will be softened, to make it more spreadable. The following are steps you can take to soften goat cheese.
Step 1
Remove logs or rounds of goat cheese from the refrigerator one to two hours before serving time. Leave them in a warm place at room temperature, loosely covered, until serving time.
Step 2
Soften vacuum-sealed plastic packages of goat cheese in a bowl of warm water for 30 to 45 minutes. The water should be approximately 100 to 115 degrees F. Do not use hot water, which will alter the texture of the cheese.
Step 3
Slice larger cheeses into rounds or strips for softening. If they are to be served on a cheese tray, cut them 1-inch to 2-inches thick, and allow them to stand at room temperature for 1 to 2 hours, or until softened.
Step 4
Mash the goat cheese thoroughly with a fork, which will soften it quickly. Shape the cheese back into a log or round, and serve.
Step 5
Soften the cheese by processing it in your food processor for a minute or two, until it is smooth and no lumps are visible. Shape the cheese back into a log or round, and serve.
Tip
Additional flavorings can be added to the cheese when it is mashed, or processed in a food processor. The cheese can also be thinned with a small amount of cream, which will soften it further and mellow the distinctive tang of the cheese.