Making a piece of paper look old or antique is a skill that can come in handy for anyone who loves to do craft projects. Paper antiquing is an inexpensive way to turn white printer paper into art and can be done almost anywhere. Using only a couple of common household items, you will be able to create authentic-looking treasure maps, themed-party invitations or old scrapbook pages.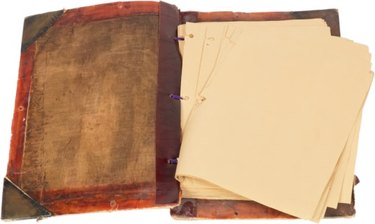 Step 1
Place two black tea bags in ½ cup of boiling water and stir. Let sit 20 minutes until cool and very strong. Discard the tea bags.
Step 2
Crumple the paper and straighten it out again. Be careful not to rip it. Smooth it out on the cookie sheet.
Step 3
Pour the tea over the entire piece of paper and let soak for up to an hour. Drain off the excess liquid.
Step 4
Gently iron the paper until dry, using the lowest setting.
Tip
If you do not have tea bags, use 3 tablespoons of instant coffee. Use a lighter to burn corners or edges for a more distressed look.