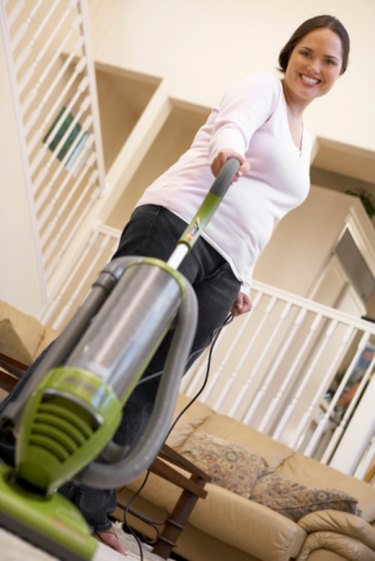 Vacuum cleaners are a useful tool in your home, especially if you have wall-to-wall carpeting. When dirt, dust and other particles are sucked into your vacuum cleaner, they are stored inside the vacuum bag. This bag is typically visible and will often puff up with air when the vacuum is in use. It is important to determine what type of bag your cleaner needs in order to successfully complete a no-mess vacuum job. There are several ways to identify what type of replacement bag you will need.
Step 1
Look in the manual that came packed with your vacuum cleaner. The manual will give manufacturer's recommendations as well as the specific type of bag needed when you are ready to replace your old vacuum bag.
Step 2
Determine the make and model of your vacuum cleaner. This is similar to the make and model of a car. The make of the vacuum is the brand name -- for example, Dyson or Oreck. The model will be the name of the specific type of cleaner. Examples include the Animal from Dyson and the Signature Plus from Oreck.
Step 3
Locate the model number. This will often appear on the box or the back of the vacuum cleaner, hidden by cords and hoses. Once you have this information, contact a local store that carries vacuum cleaner bags and provide the associate with the make, model and model number of your vacuum cleaner.
Step 4
Determine what type of bag your vacuum requires. There are several bag types that go from A to Z. For example, Type C bags are for upright vacuum cleaners, while Type G bags are typically for hand-held vacuum cleaners.
Tip
If the vacuum bag you need has been discontinued, find overstock companies online that supply the bag, or check out your local vacuum cleaner repair shop.
For proper suction and cleaning ability, the vacuum bag must be replaced every time it becomes full.