Things You'll Need
Butter

Microwave-safe bowl

Spoon

1/4 cup honey-mustard dressing

1 tsp.Worcestershire sauce

1/4 tsp. garlic powder

Hot sauce

Mixing bowl

Hard pretzels

9-by-13-inch pan

Aluminum foil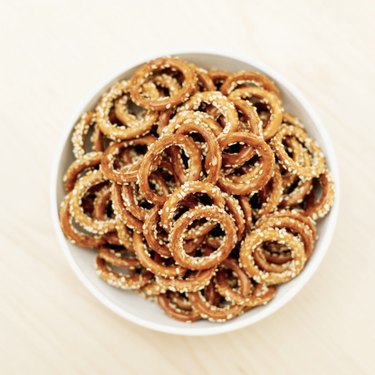 Hard pretzels make an easy snack to set out on the table or bar at a party or to keep around the house. It's easy to change the seasoning to your desired flavor. The most common flavor of seasoned hard pretzels is mustard. You also can try garlic-lemon pepper, ranch dressing mix, spicy or sweet, and salty pretzels. Butter is mixed with the seasonings to help the flavors soak into the hard exterior of the pretzel and make a tacky coating for the dry seasonings to stick to.
Step 1
Melt 1/4 cup of butter in a microwave-safe bowl by placing it in the microwave for 30 second increments on high heat until it is melted to liquid.
Step 2
Stir in 1/4 cup of honey-mustard dressing, 1 tsp. Worcestershire sauce, 1/4 tsp. garlic powder and hot sauce to taste. Stir the mixture until it is smooth and a consistent color.
Step 3
Pour the pretzels in the mixing bowl and slowly pour the mustard mixture evenly over the pretzels. Toss the pretzels in the bowl until they are completely coated.
Step 4
Pour the pretzels in a 9-by-13-inch pan and bake at 300 degrees Fahrenheit for 25 minutes, stirring every 10 minutes.
Step 5
Remove the pretzels from the oven, and spread them out on aluminum foil and allow them to sit until they are cool.
Step 6
Serve the seasoned pretzels or store in an airtight container for up to three days.
Tip
You can season the pretzels with other flavors, such as garlic-lemon pepper with garlic powder and lemon pepper; ranch with a ranch dressing dry mix; spicy with French onion soup mix and chipotle seasoning; or sweet and salty by coating salted pretzels in brown sugar and cinnamon. Use the same method as mentioned above to make these recipes.
You can use vegetable oil or maragarine if you do not have butter.