Things You'll Need
Pillowcase

Sewing machine

Thread

Scissors

Needle

2 yards of ribbon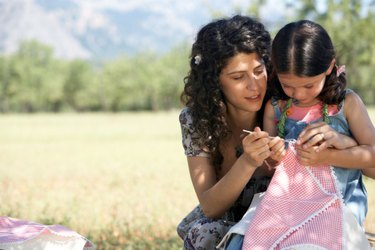 During the summer, you may see little girls with big grosgrain ribbons on their shoulders in fun, bright, print dresses called pillowcase dresses. Here are directions on how to make a little girl's dress out of a pillowcase.
Step 1
Measure the desired length of the dress from the open end of the pillowcase. Cut off the additional length. (You should be cutting off the portion of the pillowcase that is sewn closed.) If you know who the dress is for, measure the little girl from her shoulder to the knee or midcalf (wherever you want the hem to hit) to determine the length. If you do not know who the dress is for, dresses range in size from 14 1/4 inches long for a 6-month-old to 20 1/4 inches for children in size 4T.
Step 2
Fold the pillowcase vertically in half. Measure 2 inches in from the end of the fabric where you made the initial cut and 3 inches down along the side of the fabric that is hemmed. You will make a "J" shaped cut connecting these two points. This cut is to create identical armholes. Hem the armholes.
Step 3
Hem the top (the side where you cut the armholes). Fold the front and back panels of the pillowcase over a quarter-inch and then over again five-eights of an inch to form a casing, and then sew this closed.
Step 4
Thread 1 yard of a coordinating ribbon through the casing in the front panel and 1 yard through the back panel of the dress. Tie the ribbons on each side over the shoulders of the dress.
Tip
For an elegant, vintage look, use hand-embroidered pillowcases.