Things You'll Need
Bowl

1 large egg

1 cup buttermilk

Wire whisk

Large skillet

Vegetable oil

Baking thermometer

Large shallow bowl

1/2 tsp. garlic salt

1/2 tsp. black pepper

1 1/2 cups cornmeal

1/2 cups seasoned bread crumbs

8 thin-cut pork chops

Plate

Paper towels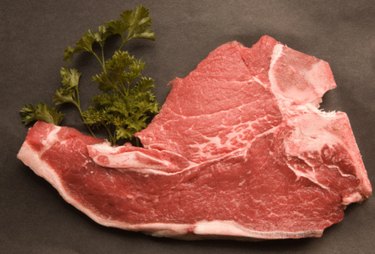 Fried pork chops are a popular southern dish that goes well with comfort foods, such as mashed potatoes or homemade macaroni and cheese. When your stomach needs a warm meal, this dish is simple to make and ready to eat in less than half an hour. Most recipes call for flour in the breading used to coat the pork. If flour is not an option due to allergies or availability of supplies, cornmeal can be used instead. Cornmeal's golden color adds subtle flavor to this delicious main dish.
Step 1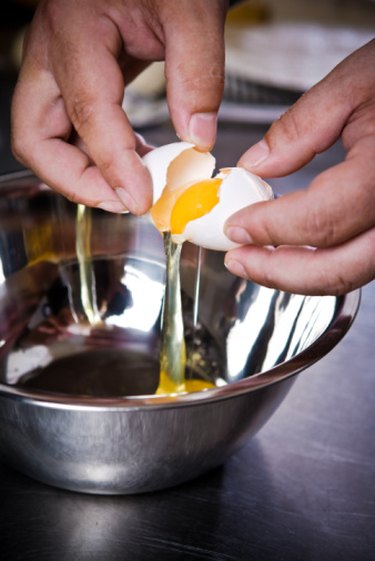 Crack one egg into a bowl and pour 1 cup buttermilk over the egg. Beat the two ingredients with the wire whisk until frothy and yellow.
Step 2
Set a large skillet on the stove top, over medium-high heat. Pour one inch of vegetable oil in the pan and place a thermometer in the oil. Heat the oil to 350 degrees Fahrenheit.
Step 3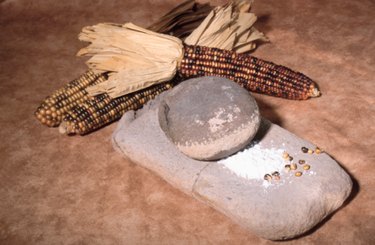 Place 1/2 tsp. each garlic salt and black pepper in a large, shallow bowl. Add 1 1/2 cups cornmeal and 1/2 cup seasoned bread crumbs. Stir the dry ingredients together to distribute the seasonings.
Step 4
Dip the pork chops in the egg and buttermilk mixture. Hold the meat over the bowl to allow excess batter to drip off. Coat both sides of the pork chops with the cornmeal and seasoning mixture.
Step 5
Fry the pork chops for five minutes on each side so the coating is golden brown and the meat is cooked throughout. Remove the fried pork chops to a paper towel-covered plate to soak up excess grease.
Tip
Use fat-free milk instead of buttermilk to save calories or dampen the pork chops in water, instead of egg and milk mixture.
Cut back on fat content by oiling the surface of the skillet rather than frying the pork chops in oil.
Make your own bread crumbs by allowing bread to dry out on the countertop before crumbling it with a rolling pin.