Things You'll Need
Ice water

Spray bottle

2 pie pans

Cooking spray

Turbinado, raw or coarse-grained sugar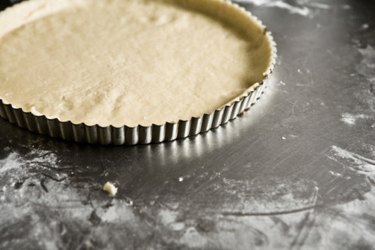 Do not cry over a broken pie shell. The tender, flaky texture of a well-made shell is extremely fragile and breaks happen. Luckily, a broken pie shell is easily repaired. Whether making a graham cracker crust or a traditional flaky pie shell the same method well help to seal any breaks.
Step 1
Fill a spray bottle with water and lightly spritz the top of the pie shell, especially around the broken area. Only apply a light mist of water to the pie shell to prevent it from becoming soggy.
Step 2
Pinch the edges of the break together with your fingers to seal the shell.
Step 3
Transfer the pie shell to one pie pan.
Step 4
Spray the back of a second pie pan with cooking spray.
Step 5
Press the greased area of the pie plate into the pie shell so the two pie pans are nested inside each other with the pie shell between. Press evenly on the top pie pan to flatten the pie crust in the bottom pan and seal any cracks that might have occurred during transfer of the pie crust to the pan.
Step 6
Remove the top pie pan. Lightly sprinkle a thin, even layer of turbinado over the pie shell inside the pan and bake or fill and bake as directed in your recipe.