Things You'll Need
Pot

Olive oil

Pasta

Colander

Cheeses

Vegetables

Spoon

Seasonings (optional)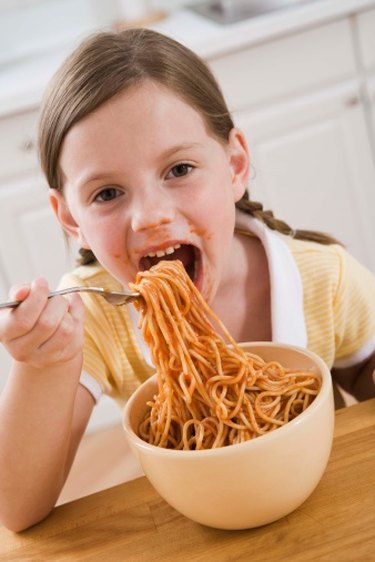 Pasta and cheese is a mainstay in most children's diets. Picky kids that don't like to try new things can usually be persuaded to eat some pasta with cheese, whether it's elbow noodles and Cheddar, or twirly pasta with mozzerella. Hot pasta and cheese is a simple, nutritious meal that can be made simply and easily in just a few minutes, and will please discerning palates of all ages.
Step 1
Cook the pasta as directed. Try different styles of pasta to give this simple dish more pizazz. Curly rotini noodles, elbow macaroni, and bow tie pasta are good ones to try. To prevent pasta from sticking together, add a tablespoon of olive oil to the boiling water before cooking pasta.
Step 2
Drain the pasta in a colander and return the pasta to the pot.
Step 3
Stir in the cheese of your choice while the pasta is still hot.
Step 4
Combine the pasta and cheese until the cheese begins to melt and coat the pasta. For a more decadent pasta dish, mix several different types of cheese, such as American, cheddar and mozzarella. For a rich pasta and cheese dish, mix a teaspoon of cream cheese into the hot pasta and let it melt before adding other cheeses.
Step 5
Add some vegetables to pasta and cheese. Diced tomatoes, cooked broccoli florets or spinach go well with plain pasta and cheese and give it a little extra nutrition.
Step 6
Stir in some seasonings if you like. Salt, pepper or basil flakes can inject some flavor into your cheesy pasta.