Things You'll Need
3 shallow bowls

1/2 cup flour

1/2 cup liquid egg substitute or 2 eggs, beaten

1 tsp. salt

1/2 cup panko bread crumbs

Baker's cooling rack (optional)

Baking sheet

1 lb. peeled, deveined shrimp with tails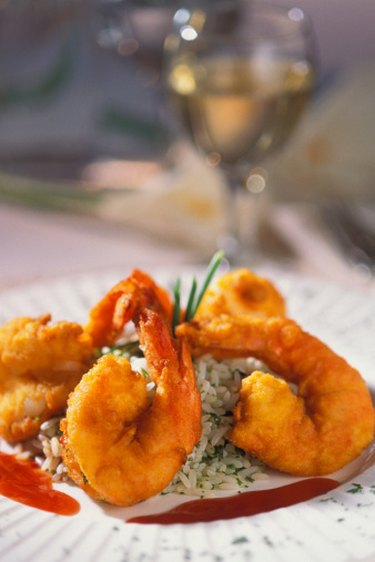 Avoid high-fat, deep-fried shrimp. By oven frying, you get the same crunchy coating with a fraction of the fat and calories from deep frying. The secret to oven fried shrimp lies in achieving the same type of crunch for the coating that you get with deep frying. Panko bread crumbs, sometimes called Japanese bread crumbs, give the shrimp a light, crunchy texture from oven frying.
Step 1
Set up a breading station. Place the flour in one bowl. Combine the eggs or egg substitute and salt in a second bowl, and put the panko bread crumbs in a third bowl.
Step 2
Place the baker's cooling rack on the baking sheet so the feet of the cooling rack or the rim of the baking sheet keep the rack suspended above the sheet. This keeps the shrimp crispy by allowing fluids to drain away from the shrimp. Use a broiler pan if you do not have a cooling rack.
Step 3
Dredge the shrimp in the flour to coat them and then submerge the shrimp into the egg mixture.
Step 4
Roll the egg-coated shrimp in the crumbs in the third bowl.
Step 5
Transfer the breaded shrimp to the baking rack on top of the baking sheet.
Step 6
Refrigerate the shrimp for one hour to let the breading adhere.
Step 7
Preheat the oven to 400 degrees Fahrenheit.
Step 8
Bake the shrimp on the baking rack over the baking sheet for 15 to 20 minutes or until golden brown and the interior of the shrimp is opaque. Serve the shrimp warm or at room temperature with tartar or cocktail sauce, if desired.
Tip
Add extra crunch to the panko bread coating with a 1/2 cup of crushed potato chips. Add spices such as 1 tsp. of paprika to the egg.