Things You'll Need
Grab bars

Non-skid bathmat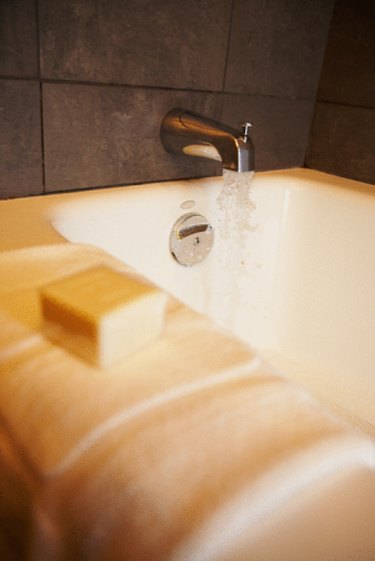 Getting in and out of a bathtub can be tricky business, especially for people who don't have good balance. Safely getting out of a bathtub is especially important for older people who live alone and for those who recently had surgery. Using grab bars gives you better leverage when getting out of a slippery wet bathtub. Although you or a family member can install the grab bars yourself, it might be best to hire a professional repair person or medical supply company to install the bars to ensure proper spacing and appropriate anchoring into the wall.
Step 1
Stand inside the bathtub, positioned parallel to the tub. The side of the bathtub will be near the side of your leg.
Step 2
Grip the grab bar inside the tub with one hand and the other grab bar on the outside of the tub with your other hand.
Step 3
Shift your outside leg upward and outward and move your leg outside of the bathtub.
Step 4
Adjust your arm positions as necessary to support yourself with the grab bars. Move your other leg outside of the bathtub.
Step 5
Wipe your feet off on a non-skid bathmat or towel before you walk on the bathroom floor.
Tip
Keep clutter away from the bathtub; this enables you to step out of the bathtub without fear of stepping on something.
Bathtub decals, which stick on the floor of your bathtub, help make the bathtub floor less slippery and give your feet a little more traction.
Consider purchasing a bathtub chair or bench if you find sitting down or getting out of the bathtub too difficult.