Things You'll Need
1 tbsp. sesame oil

Medium sauté pan

1 tbsp. chopped fresh ginger

Tuna eye

1 tbsp. soy sauce

Serving plate

Fresh lemon, optional

Medium saucepan with tight-fitting top

Cold water

Slotted spoon or colander

Soy sauce, to taste

Rice vinegar, to taste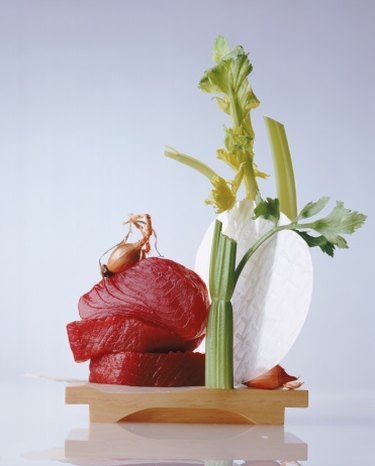 Tuna eye, literally the eye of a tuna fish, is fairly uncommon in most parts of the world, though it is served at some places in Japan and Southeast Asia. While it's certainly not for the squeamish, tuna eye has a fatty, rich flavor that many adventurous eaters enjoy. Though generally served in sushi establishments, tuna eye should not be eaten raw and needs to be lightly cooked.
Sauté Method
Step 1
Heat 1 tbsp. sesame oil in a medium sauté pan and cook over high heat until hot but not smoking.
Step 2
Add 1 tbsp. chopped fresh ginger and cook for approximately two minutes or until the ginger is translucent but not browned.
Step 3
Add the tuna eye and cook for one minute with the eye facing up. After 1 minute has passed, add 1 tbsp. soy sauce. Continue cooking the tuna eye until the soy sauce has mostly evaporated.
Step 4
Transfer the tuna eye to a serving plate and serve immediately with a fresh slice of lemon, if desired.
Boiling Method
Step 1
Fill a medium saucepan about halfway with cold water and boil the water over high heat with the lid on.
Step 2
Add the tuna eye to the water and cook for five minutes.
Step 3
Remove the tuna eye from the water with a slotted spoon or drain the saucepan in a colander.
Step 4
Toss the tuna eye with a 50:50 mixture of soy sauce and rice vinegar to taste. Serve the tuna eye immediately while warm with a slice of lemon if desired.
Tip
Tuna eye can be found in some Asian markets and through many fishmongers. If not readily available, most fish markets can order tuna eye specifically for you.
Warning
Avoid eating tuna eye raw, as it can collect bacteria fairly easy.