Things You'll Need
Calrose rice

Heavy bottomed sauce pan with lid

Water

Measuring cups

Sea salt (optional)

Butter or margarine (optional)

Sesame oil (optional)

Black pepper (optional)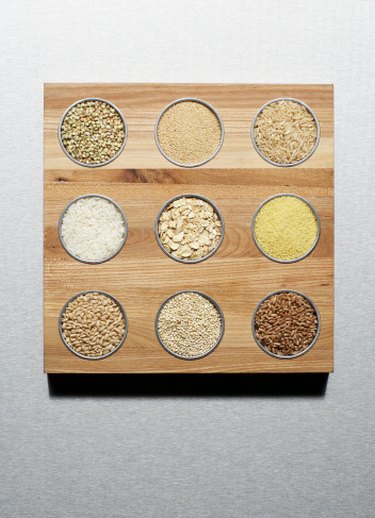 Calrose rice is used in a variety of recipes by chefs all over the world. It's mild flavor and sticky quality make it excellent for use in curries, sushi, stir fries and steamed plain as a side dish. Cooks will find that this rice is easy to prepare and delicious to eat. Blend it with spices, herbs, aromatic oils and a variety of vegetables to change-up the flavor and add a little zest to your cooking repertoire. Rice cookers are the best way to cook rice, but preparing it on the stove top also returns delightful results.
Step 1
Measure out the desired amount of uncooked rice (1, 2, 3 or 4 cups) and pour it into the sauce pan or soup pot.
Step 2
Fill the pot 3/4 of the way full with cook water and scrub the rice with your hands to remove most of the starch and sediment. Drain the water from the rice and repeat this process one more time.
Step 3
Add 1-1/4 cups water per 1 cup of uncooked rice to the pan and bring to a boil over medium-high heat, stirring occasionally. Add salt at this point, if desired. 1/4 tsp.alt per 2 cups of rice should be sufficient.
Step 4
Reduce the heat and cover the pan with a tight fitting lid. Allow the rice to simmer (covered) until all of the water has been absorbed. Remove the pan from the heating element and let the rice sit for five minutes.
Step 5
Fluff the cooked rice with a fork and drizzle a bit of sesame oil, if desired. You can also season it with a few turns of fresh cracked black pepper. Margarine or butter can be added as the rice is boiling if you prefer a buttery flavor.
Tip
Mix cooked calrose rice with coconut milk, fresh chopped cilantro and sliced scallions for an interesting, aromatic side dish.
You can also brown the rice in peanut oil and garlic prior to adding it to the water. You would skip the cleansing step if you prepare the rice in this manner.