Things You'll Need
Tempera paints

Water

Paper or illustration board

Pencil

Brushes

Craft sticks

Cup

Plate

Paper towels

Soap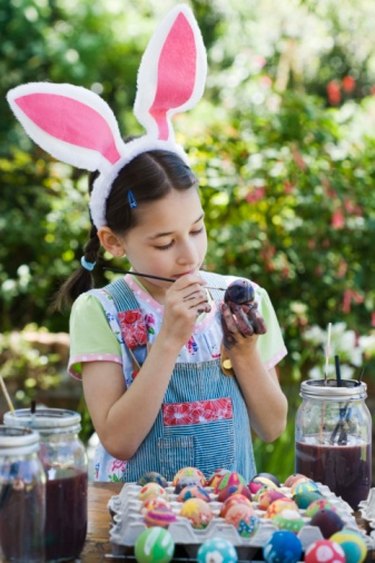 Tempera paint is a medium that has many desirable qualities. It is inexpensive, has bright, pure colors and is nontoxic, which makes it particularly appealing for children's art projects. Although the properties of tempera paint appeal to many age groups and skill levels, more-skilled artists are likely to be attracted to egg tempera, which resembles the paint used in Renaissance frescoes. While learning to paint a beautiful image may be difficult, learning to use tempera paint is not, and the materials required are not hard to find.
Step 1
Arrange your work surface so that all of your tools are in easy reach. Tempera paint dries quickly, so you need to work fast. Taking a few minutes to arrange your materials will make your work much easier. Pour some water into the cup to use for washing your brushes; use more than one cup if desired.
Step 2
Use your pencil to lightly make a drawing on a piece of paper or illustration board to use as a guide for your painting. Stiff surfaces lend themselves well to tempera paint, so this makes illustration board or even wood panels appealing for use with tempera. Tempera paint on paper may crack or flake away, although paper is good for children. Some artists also find tempera on paper appealing.
Step 3
Mix your paints. Pour a little of the color you want onto the plate and mix with a craft stick or a paintbrush, though the paintbrush may become messy if you mix a large amount of paint. Even if you don't intend to mix colors, pour paint onto the plate because you should not dip a brush directly into a container of tempera paint. You should not put paint back into the bottle, so don't put more on the plate than you intend to use.
Step 4
Use your brush to apply some paint to your painting surface. Use your plate to blend colors before applying. Tempera does not blend well and does not work well in thick layers. Each layer of tempera paint reflects the layer beneath it, so working in thin layers is the best method for painting with tempera. Build up your painting a little at a time, letting your layers dry before applying more paint. Clean your brushes using water and a paper towel between color changes to avoid muddy colors.
Step 5
Allow your painting to dry completely. Over time, the paint will harden into a waterproof surface.
Tip
Clean your brushes well with soap and water after use. Tempera paint dries quickly, so ensure that the container caps are on tightly so that your paint does not dry out.