Things You'll Need
Large orchid or carnation

Ribbon

Floral tape

Scissors

Hot glue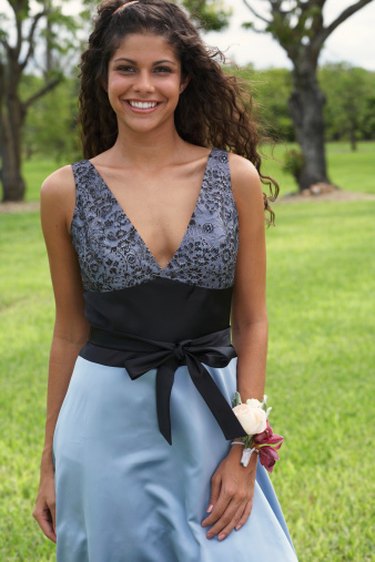 A corsage is a simple arrangement of one to three fresh flowers that are worn to formal events and for special occasions. You can wear a corsage on a lapel, hold it in your hand like a bouquet or wear it on your wrist. The corsage is a traditional gift for Mother's Day or from boys to girls for a high school prom. If your flowers do not arrive from the florist, or if you want to save some money, you can create a simple but elegant corsage in a few minutes.
Step 1
Choose a single flower for each corsage. Cut a length of wide satin or velvet ribbon about 18 inches long. Fold the ribbon in half and then mark the halfway point on the folded ribbon. Cut a small slit about 1/4-inch long on the halfway mark.
Step 2
Cut the stem on the flower to no longer than 3 inches. Wrap the flower stem with floral tape to stabilize it. Insert the flower stem in the slit cut in the ribbon.
Step 3
Turn the ribbon and flower over so the side of the ribbon with the stem sticking through is visible. Apply a small drop of hot glue to the ribbon near the slit. Press the flower stem into the hot glue. Hold it securely until the glue dries.
Step 4
Turn the ribbon back over so the flower is on top. Adjust the ribbon until the flower is situated in the center. Wrap the ribbon around the wrist and tie the ends of the ribbon. Allow the lengths of ribbon to hang gently from the back of the wrist.
Tip
Select flowers and ribbons in colors that complement each other as well your dress.
Carnations and orchids are long-lasting flowers that are a good choice for a simple ribbon corsage.
Add a few tiny sprigs of baby's breath, fern or lavender, and secure them to the main flower stem with floral tape for added elegance.
Place the corsage in a clean plastic bag and place it in the refrigerator until ready to wear.
Warning
Do not use plastic-based ribbons or ribbons with wire stabilizers along the edges. These ribbons can be uncomfortable to wear.