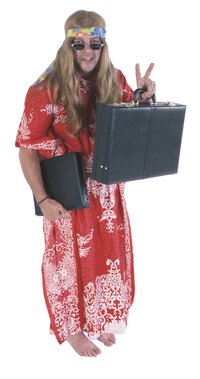 A caftans is a versatile garment to wear for either casual or elegant occasions. The loose fit and flow of the caftan make it comfortable for entertaining at home or as a beach cover-up. Make it ankle length or knee length, out of lightweight fabric like cotton, challis, silk or sheers, depending on your style and the occasion. A caftan is cut and sewn without a pattern and requires only basic sewing skills to complete.
Things You'll Need
Tape measure
Fabric
Sewing machine
Thread
Double-fold bias tape
Embellishments
Measure from your shoulder to the floor and multiply this number by two. Divide this number by 36 to find the yardage required.
Fold the fabric in half lengthwise, with right sides together. The folded edge will be the shoulder of the finished caftan.
Fold the fabric again, this time lining up the selvage edges. Use a protractor or hand-draw a 1/4 circle, 4 inches wide, at the fold line to create the neckline opening. Cut out the circle.
Open the previous fold with fabric still folded at the shoulder. Cut a 6- to 8-inch slit down the center of one side of the neckline opening. This allows room to pull the caftan over your head. This opening will be in the front of the caftan.
Cut a piece of double-faced bias tape to fit around the neckline and slit.
Pin the bias tape around the neckline, starting at the center back, going around the neck, down the slit, back up the slit and around to center back. Ease the tape as you turn it around the curves and slit. Stitch the bias tape in place.
Measure 10 inches down from the shoulder fold along the selvage edges and mark with a pin. This will be arm openings.
Stitch from the marking to the bottom edge of the fabric to close the sides.
Stitch a hem along the bottom of the caftan.
Add any trim, gems, buttons or embroidery to the finished caftan, if desired.