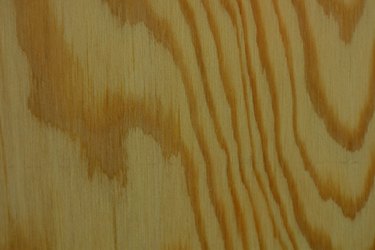 Plywood is an attractive building material for a number of reasons. It is relatively inexpensive, lightweight and easy to cut and is appropriate for many types of finishes. Plywood siding, fences and planter boxes can all be painted after priming. However, there are some finishing options that won't require any priming.
Priming for Paint
If you want to paint plywood, you'll first need to apply a primer. General-purpose wood primer will give you a smooth, nonporous base coat to work with. The base coat will prevent the pigment in the paint from being absorbed by the plywood, requiring many layers and creating muted colors. Primer prepares plywood surfaces for both oil- and acrylic-based paints, giving you full access to a wide range of colors and finishes.
Pre-Priming
You won't need to apply a primer to your plywood if it comes pre-primed from the manufacturer. Pre-priming is available for most types of plywood, including plywood siding that is most likely to end up under a coat of paint. If you have pre-primed plywood cut to a custom size, you'll need to apply primer to the cut edges. However, if you use precut, pre-primed plywood, you'll save yourself a step and be able to begin painting right away.
Staining
If you choose to stain plywood rather than paint it, you shouldn't apply a primer. Primer penetrates the porous surface of plywood, which is the same thing penetrating stains do. Primer will cause the stain to remain on the surface and prevent the plywood from attaining the desired coloration. Unlike paint, stain is available only in a limited range of shades. However, it will allow the plywood's grain to show through for a more natural, rustic appearance.
Paper Overlays
Another way to avoid the need to prime plywood is by using paper overlays. Resin-treated paper is applied to the plywood during manufacturing, giving it a surface that won't absorb pigment. Paper overlays also prevent the paint from cracking as the plywood expands and develops fissures over time. Plywood products intended for exterior siding are the most likely to come with paper overlays.