Things You'll Need
Handheld broom

Dustpan

Vacuum

Beater-brush attachment

Crevice tool

Bucket

Grease-fighting dish soap

Sponge

Rag

Microfiber dusting cloth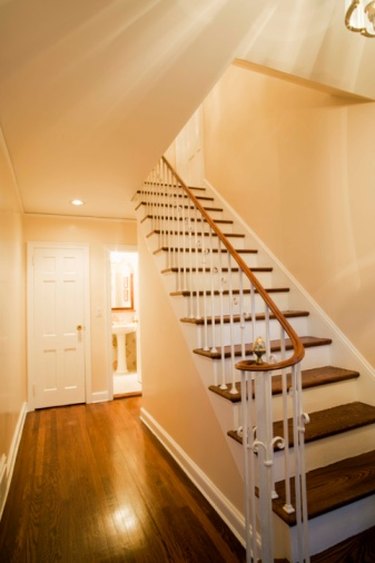 A messy or dirty stairway does not present a welcoming atmosphere in a home. Keeping stairs clean and clutter-free provides a measure of safety when traveling from one level to the next in a home. Homeowners and decorators cover stair treads in carpets, runners, stone, tile or wood. Each surface requires cleaning to maintain a tidy appearance. Dust, pet fur and other debris lands on stair treads, making the surface slippery or unsightly. Clearing the stairway of obstacles and incorporating scheduled cleaning into your housekeeping routine creates a safe stairway and allows the stairway to remain as an attractive feature in the home.
Step 1
Remove all items from the stairs, including toys or piles of clean laundry, daily.
Step 2
Sweep stone, tile or wood stairs with a handheld broom, beginning at the top landing and working your way down to the bottom landing. Collect the dust, pet fur and other debris in a dustpan and discard it in the trash. Sweep stairs at least once per week -- more often if your stairs are high-traffic or if pets shed excessively.
Step 3
Clean carpet-covered stairs using a vacuum that has an extension hose with a beater-brush attachment. Begin at the top of the stairs and progress to the bottom landing. Use a crevice tool attached to the vacuum hose to remove dust and debris from the point at which the tread and riser intersect.
Step 4
Fill a bucket with warm water and add 1 tsp. grease-fighting dish soap. Submerge a sponge and wring out water until the sponge is damp. Wipe tile, stone and wood to remove dirt and grime. Dry the stairs immediately with a thick rag.
Step 5
Wipe away dust from banisters, stair rails, balustrades and newel posts with a microfiber dusting cloth. Mix warm water and grease-fighting dish detergent. Dip a cleaning rag into the mixture, wring out water leaving the rag barely damp and wipe away dirty marks from the railings.
Tip
Use an extension hose if the existing vacuum hose does not reach the top of the stairs.
Warning
Avoid using stairs as a means of storage or a holding area. Do not use wax on stairs as wax creates a slippery finish.