Things You'll Need
Measuring spoons

Bread mix

Yeast

Water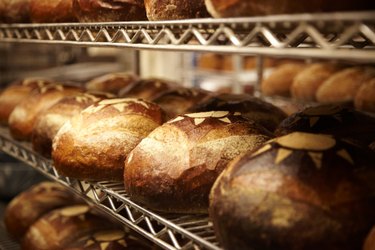 DAK bread making machines take the effort out of making bread. The process no longer ties up the oven and the attention of the homemaker. The entire process takes place inside the machine from start to finish. Recipes for the DAK breadmaking machine cover the entire spectrum of breads from onion dill bread to Irish soda bread. The DAK machine is easy to use and quiet. It is especially suited for the small kitchen since it takes up very little room on the counter.
Step 1
Insert the inner pot into the machine with the arrow on the top of the pot facing forward. Lock it in place by turning it a third of a turn. Put the dough blade in the pot with the slots in the blade facing the bottom of the DAK machine. Rotate the blade if necessary until it fits into place.
Step 2
Put the dry yeast near the edge of the DAK inner pot. Warm up the liquid ingredients until they are 120 degrees to 130 degrees Fahrenheit. It's necessary for the liquid to be warm to activate the yeast.
Step 3
Add the liquid ingredients to the pot and press the Turbo button for faster cooking. The Turbo mode on the DAK bread machine cuts the time from 3 hours 45 minutes to 2 hours 30 minutes through convection cooking.
Step 4
Choose the proper time, temperature and procedure for the type of bread being baked by pressing the select button repeatedly. Make sure the "Manual" indicator light is off.
Step 5
Press the start button on your DAK breadmaker. The time indicator will show when the bread is ready to eat.
Step 6
Remove the pot by turning it a third of a turn counterclockwise after the cycle completes. Use gloves as the pot and the dough blade will be hot. Set the DAK inner pot on a cloth or rack upside down. Take the dough blade out of the bread. Let the bread cool before slicing.
Warning
Don't touch the glass lid on the DAK machine. It becomes very hot during baking. Keep flammable objects away from the DAK during the baking cycle. Don't block the air intake opening on the bottom of the unit. Don't wash the main unit with water as this could lead to an electric shock.