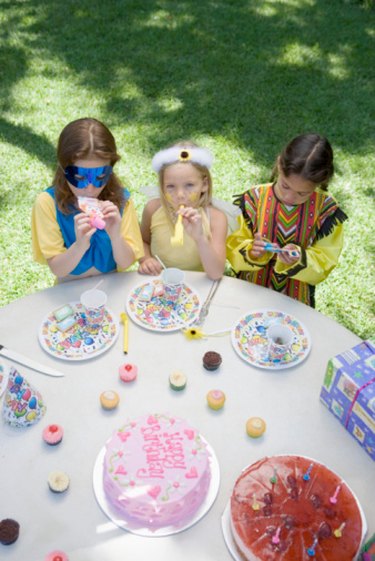 Printed paper plates make a fantastic edition to any party or special occasion. You can personalize your paper plates for wedding, parties or company functions. You can add text, pictures or photos to your plates to make your special occasion memorable. There are a number of online outlets which offer a wide range of options from which to choose, including hundreds of designs and different materials for every occasion. You can order the number of plates you need and have them delivered to your door.
Step 1
Browse the Internet for the company that offers the kind of plates you want. You can order coated or biodegradable paper plates. Research the costs, delivery time and minimum quantities to find the company that best suits your needs.
Hallmark.com offers small and large quantities for special occasions like birthdays, weddings or graduations. AJ Print and Extra Mile specialize in printing logos and company designs on plates.
Step 2
Select a photo, graphic or logo that suits the occasion and save it onto your computer as a jpeg. format. Use only those images which are yours or to which you've obtained the rights for use. If you do not have an electronic copy of the image you wish to use, scan the image to your computer.
Step 3
Select the color and size of the plates that will best accommodate the food you plan to offer at your event. Choose small plates for cocktail parties and larger plates for barbecues and buffets.
Step 4
Select your design and upload the image. Fill in any text you would like and click on the "Cart" button to place your order. Fill in your payment information and click on "Send." Make sure to include your postal address and the quantity you're ordering. Some websites will require you to fill in the information in a form rather than in the template itself.
Step 5
Make sure to see a final draft before finalizing your order. Pay special attention to spelling. Get an order number and postal reference number once the order is complete. These will be useful should problems arise during shipping.
Tip
Order in large quantities for reduced prices.