Things You'll Need
1 cup raw macaroni noodles

8 crab sticks

2-3 green onions

1/2 bell pepper

1/2 cup green peas

1 tsp. fresh dill

3/4 cup low fat mayonnaise

1/4 cup milk

1 tsp. sugar

Salt and pepper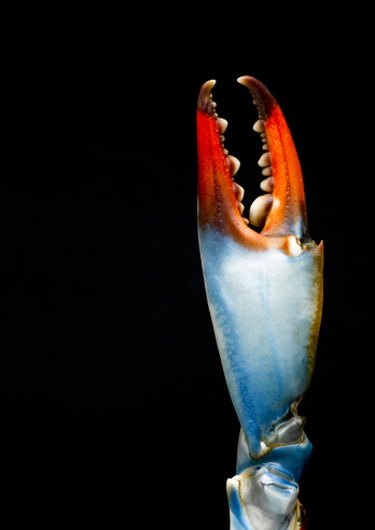 Crab sticks are a form of imitation crab meat. These sticks are primarily composed of a fish protein known as surimi. Crab sticks often are cheaper than genuine crab meat, which makes them popular in a variety of dishes. One of the easiest ways and healthiest methods of preparing crab sticks is to use them in salads as an appetizer or a side dish to an entree.
Step 1
Boil the macaroni noodles according to the directions on the box. Drain them and set them aside in the refrigerator.
Step 2
Chop the onions and pepper and place them in a bowl.
Step 3
Chop the crab sticks into bite-sized pieces and add them to the bowl.
Step 4
Add the peas to the bowl as well and mix the contents of the bowl with a spoon.
Step 5
Chop the dill and place it in a small mixing bowl. Add the mayonnaise, milk, sugar and salt and pepper to taste. Mix well and pour over the crab meat and vegetables.
Step 6
Stir the noodles into the crab meat mixture and return to the refrigerator until completely chilled.