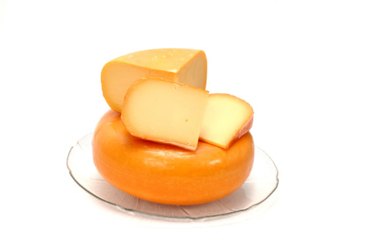 Cheese slices will stand in for shredded cheese in any melting application. Reduced fat cheeses do not have the same structure as regular cheeses and they become tough and rubbery with prolonged heating, according to the cheese company Sargento, so avoid using low fat cheese slices for melting. The choice of your cheese, both in its fat content and variety, and the method you use for melting it will determine whether you end up with a smooth and creamy melted cheese or a rubbery mess.
Step 1
Choose a variety of cheese for better, smoother melting. Robert Wolke writing for Fine Cooking suggests the following melting cheeses: cheddar, Asiago, Gruyere, Fontina, Gouda, Monterey Jack, Emmentaler (or Emmental), Havarti and Muenster. Look for these cheeses sliced in the supermarket dairy case or ask for slices from your local deli or cheese shop.
Step 2
Slice your own cheese if you cannot find pre-sliced cheese. Pull a cheese planer over the surface of a block of cheese to shave off the thinnest slice possible for optimal melting.
Step 3
Set the cheese slices out on the counter for at least 30 minutes to come to room temperature before melting. This will avoid wide, rapid swings in temperature and help the cheese to melt faster.
Step 4
Tear the cheese slices into smaller shreds if you're adding the slices to a sauce or using them as a topping for a casserole, sandwich or pizza.
Step 5
Add the ripped cheese as a topping to a baked dish during the last five to ten minutes of cooking and remove the dish from the oven as soon as the cheese has melted.
Tip
Cheese planers resemble planers used to shave wood. They are available in cookware supply stores and department stores with the kitchen items.
Add whole cheese slices to a baked dish or sandwich toward the end of the cooking time and watch the dish carefully to avoid burning the cheese. Bake or broil open-faced sandwiches, nachos and pizzas instead of using the microwave for more even melting.
If you are making a cheese sauce, add 1 tbsp. of lemon juice per four 1 oz.-slices of cheese to prevent stringiness when the cheese is melted. Slowly whisk the cheese and lemon juice into a white sauce over low heat. Continue stirring the sauce until the cheese completely melts and the sauce is smooth. Use your own recipe for white sauce or check out the one included in the Resources section of this article.
If melting cheese slices for a sandwich, use bread slices that are less than 1/2 inch thick, and toast the sandwich in a skillet over low heat with a pot lid on top of the sandwich. Flip the sandwich when the bottom of the sandwich turns light brown and finish toasting it without the lid until the cheese has completely melted and the second side is browned.