Things You'll Need
8 inch square baking pan

Cooking spray

1 cup liquid egg whites

1 tbsp. mayonnaise

1/4 cup diced tomato

1 tbsp. fresh parsley, chopped

1 tbsp. sweet pickle relish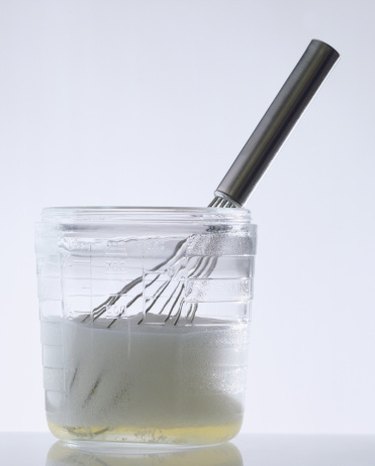 Skip the hassle of peeling hard boiled eggs for salad. Baked liquid egg whites save time and calories when used to replace whole eggs in an egg salad. Liquid egg whites are used the same way as other liquid egg products, which lack the yolk but are made from the whites. Look for frozen and refrigerated liquid egg whites in supermarkets.
Step 1
Preheat the oven to 325 degrees Fahrenheit.
Step 2
Spray the baking pan with cooking spray on the sides and bottom and add the liquid egg whites.
Step 3
Bake the egg whites for 15 minutes or until set.
Step 4
Chill the eggs in the pan until completely cooled. Place the pan in the refrigerator to speed the cooling, if desired.
Step 5
Slice the hard-cooked egg whites into 1/2 inch cubes.
Step 6
Mix the egg white cubes with the mayonnaise, tomato, parsley and sweet pickle relish to combine.
Step 7
Chill the egg salad overnight to combine the flavors.