Things You'll Need
Scrap fabric

New needle

Small screwdriver

Compressed air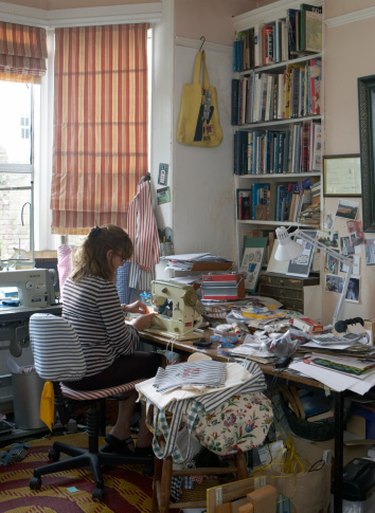 Brother embroidery machines are complex and useful machines that create intricate and beautiful embroidery designs. With an embroidery machine, you can embellish clothing, home decor, quilts and lots of other fabric creations. Many embroidery machines, including Brother machines, are computerized and include built-in fonts and designs. Other machines are also compatible with USB devices to import specific designs. When these machines are working properly, they are a joy to use. When problems arise, however, they can be highly frustrating. When this occurs, it's important to identify the problem, determine if you can fix it or if it requires professional repair.
Step 1
Double-check that the machine's problems aren't the result of a simple error. Make sure that you inserted the needle properly, with the flat edge facing the correct side. It's a good idea to replace the machine's needle frequently to ensure smooth, consistent embroidery stitches.
Step 2
Ensure the machine is threaded properly on the top and bottom. People with years of sewing experience often make these simple mistakes -- especially when switching the needle or thread in the midst of a project -- so don't feel bad if this happens to you.
Step 3
Remove interior dust by taking the bobbin case's exterior off and using a can of compressed air to dust this area and the spaces where the top thread is threaded.
Step 4
Check that the bobbin has been wound properly, because this is the most common cause of bobbin problems. Never wind different size threads into a bobbin. Instead, start with an empty bobbin and wind it slowly and evenly across all levels, stopping before the bobbin is too full.
Step 5
Make sure the tension settings match the type of fabric you're sewing on. Adjust tension levels on a scrap piece of fabric, until you achieve neat and consistent stitches.
Step 6
Install necessary updates to your sewing machine's computerized systems. Refer to the manual for advice on troubleshooting the computer when problems arise.
Step 7
Take the time to check for common, simple errors that can be easily fixed. This, along with adequate cleaning and care, will prevent unneeded trips to the repair shop. However, if you continue having problems, visit a repair shop or a Brother dealership to fix the machine.
Tip
Always consult your sewing machine's manual when repairing your machine.