Things You'll Need
Polyester blend thread

Needle

Scissors

Seam sealant

Smooth elastic (width must match strap width)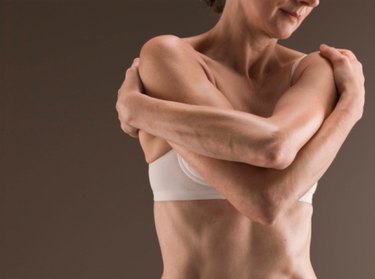 Bra straps that are too short will dig into your shoulders, even on the longest setting. Unless you are consistently unable to find a bra with straps that fit, purchasing a comfortable new bra is worth the money. A well-fitted bra can prevent back pain, chafing and other uncomfortable situations. However, if your physique demands that you alter the length of your bra straps, lengthening them is not a difficult job.
Preparation
Step 1
Locate the best place to cut the strap. This will usually be about an inch above where the strap attaches to the back band. If this location interferes with the existing adjustment mechanism, adjust the bra as needed and cut an inch above the adjustment. Apply seam sealant to the cut edges.
Step 2
Cut the smooth elastic to the desired lengths and then measure the pieces to be sure they are the same length. Use seam sealant on the cut edges.
Step 3
Allow the seam sealant to dry before continuing.
Sewing the Strap
Step 1
Cut a 24-inch piece of thread. Bring the ends of the thread together. Thread the needle with the two ends of the thread. You now have a double thread with a loop at the far end.
Step 2
Make sure the strap is not twisted, and line up one of the pieces of elastic with the strap. Begin by sewing the long end of the strap to the elastic. Push the needle down through the strap, then pull it up through the elastic. Pull until the loop is an inch from the strap, then pull the needle through the loop to secure.
Step 3
Whip stitch across the strap and bind off the thread.
Step 4
Repeat steps one through three for the other seams.
Step 5
Try on the bra to ensure a proper fit. If anything does not feel right, fix it before it becomes an uncomfortable problem.
Tip
Using a smooth elastic will prevent chafing and discomfort.
Try to keep your stitches neat and even to improve the look and feel of the garment.
Warning
The seams of the straps may look slightly lumpy under thin or sheer fabrics.