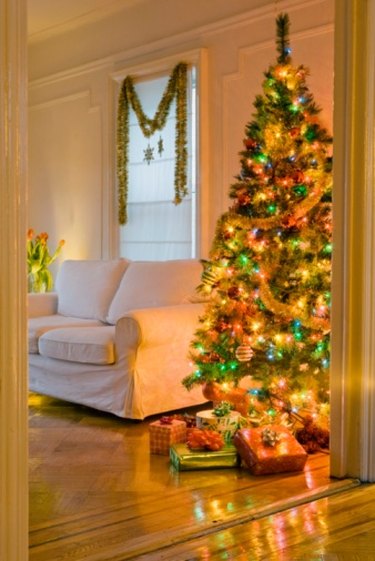 Rope lights are strands of many tiny lights encased in a clear plastic sleeve of tubing. Because rope lighting is often used linearly with evenly spaced lights, it's more noticeable when something breaks or when a light goes out than with traditional string Christmas lights. Can you repair rope lights, though? There are a few things you can try if part of your rope lighting has stopped working.
Working With Rope Lighting
You'll often see it used in holiday displays, but rope lighting is also used for year-round accent and outdoor lighting for homeowners looking for something a bit different. Rope lights usually come in 1/2- or 3/8-inch diameters and can be purchased in small sections or long spools. The lights inside can be incandescent or LED. Incandescents will be less expensive up front, but they produce more heat and run the risk of a fire hazard. LEDs are more expensive to buy, but they will last longer, use less energy and run cooler when compared to incandescents. Standard rope lighting uses two wires, but types that can be programmed, animated or flashed in different colors will use more wires.
Make sure you're comfortable working with electrical wiring before attempting to repair rope lighting on your own. Always make certain the strand is unplugged before you start working on it. When plugging it back in to test, be ready for sparks or hot spots that can cause a fire without immediate attention. Even a string of lights can cause damage to you and your home if its wiring is faulty.
How to Fix Christmas Rope Lights
Are you wondering how to fix rope lights or if you can repair rope lights? If you have one bulb out in a long run of rope lighting, you may be able to ignore it for a while. If an entire section is starting to go out, you're going to want to look into replacing it. Most rope lighting is labeled with cut marks, allowing you to safely cut a section of the lighting without interfering with the circuitry. You can cut out the area that isn't working and install a new, matching piece of rope light in its place.
To be safe, you'll want to uninstall your rope lighting and move it to a safe place to work. Locate the closest cut points on either side of the malfunctioning area and use wire cutters to cut through the tubing to remove that section cleanly. Examine the ends of the rope lighting that are left. If there's visible damage to the wiring, you'll want to look into replacing the entire piece of rope light. Otherwise, take the new part of rope lighting and carefully attach the new leads to the old ones using pliers. You can often twist the wires together, but you can use a tiny amount of solder if necessary to attach the leads. Make sure you're connecting them in the right direction. Once the new section has been attached, plug it in to test that it works before sealing the edges of the plastic tubing together using heat per the manufacturer's instructions.
For more minor repairs, you can also cut an opening in the back of the tubing and replace one or two individual lights that have been removed from a new matching piece of rope light.
Further Troubleshooting and Seeking Help
If this doesn't solve your problems, you'll want to further troubleshoot your rope light installation to identify the problem. You might have bad splicing or broken wiring inside, especially if you're shaping the rope light into something other than a straight line.
Alternatively, you could be using the wrong type of power source. If it's outside your area of expertise, call in an electrician. Chances are this may be too small a job for an electrician to do, but he may be able to help or at least direct you on what to do if your LED rope light stopped working.