Things You'll Need
1/2 cup rice vinegar

4 tsp. white sugar

Bowl with lid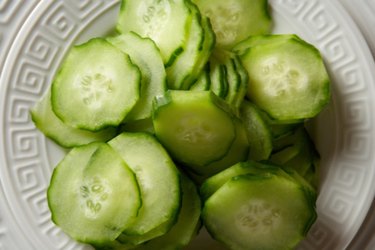 Summer is the perfect time to find a tasty, yet simple cucumber salad recipe. Cucumbers are 96 percent water, which makes them a refreshing and juicy vegetable that you can enjoy plain or with minimal additions. A classic way to prepare cucumbers is to toss them in a vinegar and sugar mixture for a fresh pickle-like salad. The salad takes minutes to prepare and makes an affordable side dish or snack.
Step 1
Scrub the cucumbers clean under running water.
Step 2
Score the cucumbers with a fork. Using the fork to remove portions of the cucumber peel adds a decorative touch to the salad.
Step 3
Cut tip off both ends of each cucumber. Slice the cucumbers into thin, circular pieces.
Step 4
Mix together 1/2 cup rice vinegar and 4 tsp. white sugar in a medium sized bowl.
Step 5
Toss the cucumbers in the vinegar and sugar mixture. Stir until all of the cucumbers are coated with the mixture.
Step 6
Cover the bowl and refrigerate for about an hour or until the cucumber salad has chilled.