Things You'll Need
Tape measure

Cotton fabric

Sewing machine

Matching thread

1-inch trim

1/2-inch elastic

Safety pin or elastic threader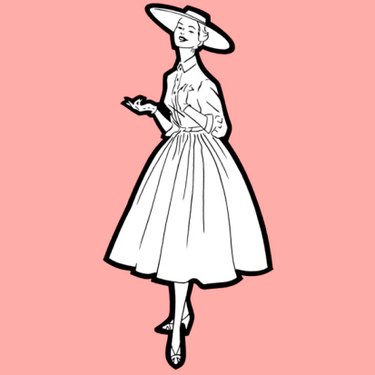 A cotton slip is cool on a hot day, especially if it is full enough to keep your skirt away from your legs. A full slip also improves the lines of a gathered skirt. Ready-made cotton slips are sometimes hard to find, but you can sew one yourself with only a few straight seams. Make an inexpensive slip from muslin with eyelet trim or use fine batiste and handmade lace to make an heirloom petticoat.
Step 2
Cut your fabric two or three times as long as your waist measurement. This will be the measurement around the hem of the slip: two times the waist measurement for a slightly full slip, three times the measurement for a moderately full slip. If you need more fullness wear two slips; adding more fabric to a single slip will make the waist too bulky.
Step 3
Cut your fabric to the desired length of your slip.
Step 4
Sew the sides of the fabric rectangle together to make a large fabric tube. Use a 1/2-inch seam allowance. Finish the seam allowance with a zigzag or overcast stitch.
Step 5
Finish the lower edge of the slip with a zigzag or overcast stitch, then sew the trim around the bottom of the skirt, starting at the seam. Fold under the raw edge of the last 1/2 inch, then lap it over the beginning of the trim and sew closed to give it a finished look.
Step 6
Finish the top edge of the slip with a zigzag or overcast stitch.
Step 7
Iron down a 1-inch casing for the elastic at the top of the slip. Sew 1/4 inch from the edge of the folded down fabric, leaving a 2-inch opening at the end for threading the elastic.
Step 8
Cut a length of 1/2-inch-wide elastic that will fit comfortably around your waist with a 1/2-inch overlap at the end.
Step 9
Thread the elastic through the casing with a safety pin or elastic threader. Be careful not to twist the elastic.
Step 10
Sew the ends of the elastic together with a 1/2-inch overlap. Sew the opening in the casing closed.