Things You'll Need
Old uniforms

Scissors/rotary cutter

Ruler

Pins

Sewing machine

5 yards coordinating fabric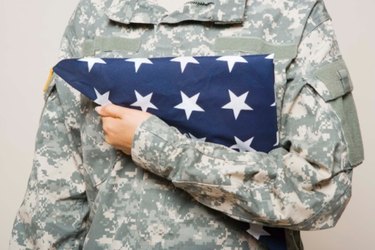 An army uniform is more than just a piece of clothing. It represents sacrifice, time, pride and fellowship. Once there is no longer a need to wear that uniform on a daily basis, most former armed-services members keep their uniforms in their closets. There are ways, however, to turn those uniforms into functional keepsakes. Making a quilt out of used uniforms is one of those ways.
Army Uniform Quilt
Step 1
Decide which parts of the uniforms you want to make into quilt squares, such as the name tape, patches and pockets. Cut the pieces your scissors or rotary tool and ruler into a square that measures 14 inches by 14 inches. For a quilt with final measurements of 104 inches by 104 inches, cut 24 squares.
Step 2
Take your coordinating fabric and cut out 25 squares that are 14 inches by 14 inches.
Step 3
Sew a coordinating fabric square to a uniform square and repeat, alternating coordinating squares with uniform squares, until you have seven squares across. That will make the first row. On the next row, sew together the opposite pattern of your first row; start with a uniform square and alternate with a coordinating fabric square until you again have seven. You will continue this alternating each starting square until you have seven rows.
Step 4
Take each of the rows that you have sewed and pin them together to make a 104 inches by 104 inches square. Make sure that each row starts with a different fabric. Sew each row to the row above it, leaving a 1/4-inch seam allowance. Iron the piece, seams down, when you are finished.
Step 5
Sew on a border in either the coordinating fabric or strips from the uniforms, if you desire.
Step 6
Cut a piece of your coordinating fabric to 104 inches by 104 inches (you may have to cut smaller pieces of the coordinating fabric and sew them together to make a square that large) and pin it to your quilt, front sides of fabrics together. Sew around all sides, leaving a small opening to turn your work right side out. Turn the piece right side out, iron it flat and topstitch around the entire quilt, 1/4 inch from the edge. To add more sturdiness to your quilt, sew along the seams of your squares at this point.
Tip
After turning and before topstitching, use a pencil eraser to poke into the corners to make them look more square. Once you finish making the quilt top, you can take it to a professional quilter and skip the last few steps. You can use batting in between the back and front layers to make the quilt thicker and softer.
Warning
Make sure that your seam allowance when sewing is even all the way around the quilt so that the squares are even.