Things You'll Need
Upholstery samples

Placemats

Iron-on interfacing

Electric Iron and ironing board

Canvas

Quilting batting

Fusible webbing

Sewing machine

Needle, thread

Scissors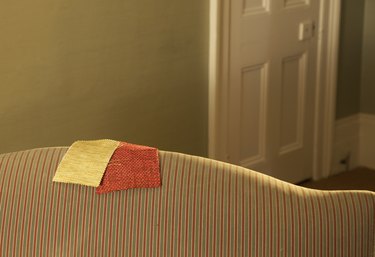 You can use upholstery samples to construct a multitude of items, from bookmarks to rugs. Many upholstery samples are at least partially backed with paper, which makes them sturdy and less prone to fraying. You can find uses for them in home decor, art or other non-clothing projects, which do not require frequent washing. Making wall art, birthday crowns, fancy fabric boxes, bookmarks, place mats and floor rugs are just some of their many uses.
Place Mats
Step 1
Cut the iron-on interfacing and the upholstry samples so that they are exactly the same size as the place mat.
Step 2
Place the fusion material over the place mat, aligning to leave no gaps.
Step 3
Place the fabric over the interfacing and iron on the lowest setting to fuse the upholstery samples to the place mat.
Floor Rug
Step 1
Cut canvas cloth according to the size you wish to make the rug.
Step 2
Select the upholstery samples without paper backing that you want to use and fold a 1/4-inch seam allowance all around each piece. Iron the folds.. Place the samples over the canvas to create a pattern of your choice, ensuring that all of the canvas is covered and pin the pieces together.
Step 3
Sew two pieces of upholstery fabric side by side to make one section for the rug and then sew another two pieces together. Sew the two sections together to create a set of four pieces. Repeat the process until you sew together all the samples for your rug.
Step 4
Pin the canvas and the rug together around the outer edges and sew them together. Start at the center and work outward using straight or zigzag stitches.
Step 5
Use canvas cloth for binding. Cut 3-inch wide strips of canvas according to the dimensions of your rug. Fold one strip of canvas in half lengthwise and sandwich one side of the rug in between the layers. Pin the binding and sew it in place. Repeat to attach each strip of binding.