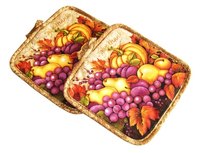 Making heat-resistant potholders is a simple sewing project with a functional result. Heat-resistant fabric is a silvery-gray color and it can be purchased from most fabric shops. The heat-resistant gray fabric can be used with decorative potholders of any color, and still protect your hands from hot pots and pans.
Things You'll Need
2 8-inch squares decorative color fabric
2 8-inch squares cotton batting sheet
1 8-inch square heat-resistant fabric
Threaded sewing machine
Binding tape
Stack the 8-inch squares in the following order: one decorative square, back side up; one sheet of batting; the heat-resistant fabric square; another sheet of batting; and the second square of decorative fabric, front side up.
Sew the stack of fabric and batting together on a sewing machine. Start at one corner and sew straight across to the opposite corner. Turn the square to the next corner and sew straight across to the opposite corner, making an "X." You can add more stitches on either side of the X if desired.
Trim the corners of the fabric to round them. Place the bias tape around the edges, so that one side lays on either side of the potholder. Pin the bias tape in place.
Stitch the bias tape to the potholder, lining the edge of the sewing machine's presser foot with the outer edge of the bias.