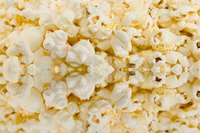 Although fresh popcorn smells delicious, consider making artificial popcorn if you are using it for something such as a stage prop or stringing it up on a Christmas tree as décor. Making artificial popcorn doesn't require a lot of expertise or complicated crafts tools to achieve realistic-looking, fake popcorn.
Things You'll Need
Packing peanuts
Large piece of cardboard
Light buttercup-yellow shade of spray paint
Clear shellac acrylic sealant spray
Purchase a bag of small, white packing peanuts. The bag size depends on how much fake popcorn you need. You can find bags of packing peanuts at office- or mailing-supply stores.
Lay out a piece of cardboard large enough to hold the packing peanuts in a single layer. Spread peanuts out on cardboard in a well-ventilated workspace. Spray them with a light layer of the lightest shade of butter-yellow spray paint you can find, which will make the peanuts look similar to buttery popcorn.
Allow the peanuts to dry for one hour, then apply another light coat and let them dry again for one hour. Flip over the peanuts and repeat steps 2 and 3.
Spray the peanuts with shellac clear acrylic sealant once on both sides, allowing an hour between each application for drying. The sealant will preserve your fake popcorn so that you can reuse it.