Things You'll Need
Trisodium phosphate

Rag

Towel

Tinted polyurethane

Foam brush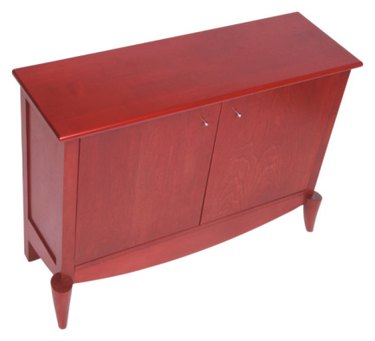 Stain gives pallid wood surfaces bold, rich color. Natural and synthetic oils penetrate the wood's pores to permanently transform the color and condition the wood for lasting durability. Understandably, a faux wood surface cannot be conditioned with traditional wood stain. Fortunately, if you have plastic wood surfaces in your home, you don't need to give up on staining them just yet. Special polyurethane finishes can be applied directly to plastic wood, providing translucent color that imitates real wood stain.
Step 1
Wash the plastic surface with trisodium phosphate and a rag. Dirt and grime will be forever trapped under the polyurethane coating if you don't wash away this grime beforehand.
Step 2
Dry the plastic wood with a clean towel.
Step 3
Apply tinted polyurethane to the plastic wood using a foam paintbrush. Apply the polyurethane coating in parallel lines with 50-percent overlap. Keep the brush moving to ensure even coverage. Tinted polyurethane provides a topcoat of subtle color to plastic wood, allowing the faux wood grain to show through. The end result is a real wood stain look on a fake wooden item. Wait for this first coat to dry.
Step 4
Brush a second coat of tinted polyurethane onto the surface if the first coat doesn't offer dark enough staining. With each coat, the plastic wood will appear more darkly stained. Apply as many coats as needed for your ideal faux finish, waiting for each coat to dry between applications. Do not use the item until the final coat has set for 24 hours.