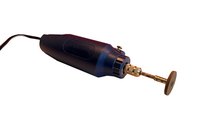 Dremel is a brand of rotary tool useful for sanding, polishing and etching different materials. Rotary tools have special bits that allow you to etch designs into glass, metal and stone with only a few supplies. Etching with a rotary tool requires a steady hand to produce professional quality results. With time and practice, you can etch almost any design into an array of different materials and items. You should begin rotary tool etching on practice items before moving on to items of great value to you.
Things You'll Need
Working table
C clamp
Washable marker
Protective breathing mask
Attach the item you would like to etch onto a working table with a C clamp. If you are working with glass, do not tighten the C clamp as far as it will go as you risk breaking it.
Draw the design you would like to etch onto the item with a washable marker.
Put on a protective breathing mask to ensure you do not inhale fragments.
Attach an etching bit to your rotary tool. Choose the size of etching bit based upon how large you would like the lines to be.
Turn on the rotary tool to high speed and begin to etch your design into the item slowly. Begin lightly pressing the bit into the start of one line and tracing along the marker drawing. Continue tracing until you have etched the entire design.
Repeat the etching process over the lines if you would like it to be deeper.
Turn off the rotary tool and dip a rag into water. Wipe the etched surface with the wet rag to remove any fragments and remove the item from the table. Leave the area before taking off your breathing mask.