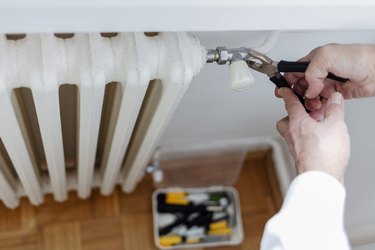 Rust forms on radiators because of leaks or built-up sludge on the inside. Are you wondering how to remove rust from radiators? After all, if you leave things for too long, the radiator can get so damaged that you will need to replace it. This problem could also cause your vehicle to break down. Preventative maintenance is the best way to combat rust, and you don't have to take your car to a mechanic to do this.
Why Does Rust Form on Radiators?
Rust forms on metal, and radiators are pretty much universally metal. Antifreeze also degrades over time, losing its pH levels and protective qualities. Rust, sludge and scale can build up throughout your entire cooling system and your engine. Not treating the problem can cost you a lot of money on repairs, and no one wants that.
As for radiator leaks, these can be caused by not having enough coolant, too much coolant, a bad heater core or a damaged thermostat. Rust can also make radiators leak more, so it is a vicious circle. The sludge you might see is also probably made up of rust and coolant. This thick, brown-colored gunk causes engines to overheat and the cooling system to fail, which is a leading cause of roadside breakdowns. Regular maintenance can prevent this from happening.
Only use coolants specifically designed for your car's make and model and never mix coolants. You should also flush your radiator every 30,000 miles, once a month or when your manufacturer advises doing so. Look at the radiator hose and check for cracks, leaks or rusted clamps whenever you change the oil. See that the gasket fits securely onto the radiator cap and make sure there are no leaks or drips under the engine.
Also, check the coolant levels because this stops fluids from freezing and prevents the vehicle from overheating when it is too hot outside. Try not to load your car with more than it can carry. This overloading makes the engine work harder, and the radiator has to keep up to keep it cooled. As a final word of caution, always check the radiator when the engine is cold.
How to Fix Rusty Radiators
You can save money by learning how to fix rusty radiators on your own just by flushing your radiator at home with a pan, water and vinegar. Also, have new coolant on hand to replace what you are taking out. Be sure to read up on how to fix a rusted, leaking radiator before you get started if yours is in fact leaking in addition to just rusty. Make sure that you learn about the proper ways to dispose of used antifreeze before flushing the radiator. If you're not sure, you can contact your state's department of waste management, an area mechanic, your local government or a recycling center for this information.
To drain the old antifreeze, park on a flat surface and allow the car to cool down completely. Disconnect the battery and place a shallow pan under the radiator. Then, take off the radiator cap and loosen the radiator drain valve, which will cause the liquid to drain into the pan. You can pour the old coolant into a sealed plastic bag until you dispose of it properly. Fill the radiator halfway with water and then pour in a gallon of distilled white vinegar. There should be some room left, which you should fill with more water.
Put the radiator cap back on, start the car and allow it to run for a few minutes. Turn it off and then let it sit overnight. The next day, put the pan back and remove the radiator drain valve, and the vinegar/water mixture will drain out. Use a hose to flush the radiator as it is draining, add new antifreeze mixed with water (read the label for how much) and the job is done.