Things You'll Need
Tape measure

Tailor's chalk

Fabric

Straight pins

Scissors

Sewing machine or needle and thread

Iron

Snaps or hook-and-loop tape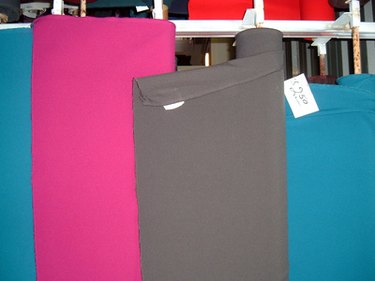 With the exploding popularity of all things wizard, thanks to books and films like "Lord of the Rings" and "Harry Potter" and television shows like "Wizards of Waverly Place," you or someone you know may want to dress up in wizard robes. Though costumes are widely available in stores and online, making these robes yourself is both simple and economical.
Making the Robe
Step 1
Measure yourself from the top of the shoulder to the ankle. If you prefer to have your wizard robe shorter, measure to midcalf or the knee. Also, with your arms in a "T," measure from palm to palm for sleeve length.
Step 2
Fold the fabric in half width-wise, with the ride side folded to the inside. Match up all edges. Using a piece of chalk, draw the outline of the robe onto the fabric using your height measurement for the length and your palm-to-palm measurement for the width. The body of the robe should be bell-shaped.
Add 2 inches to the edge of each sleeve and to the bottom for hemming. Be sure that the fold of the fabric is at the top of the robe.
Step 3
Cut out the robe. Be sure not to cut the fold at the top of the robe.
Step 4
Pin the robe together from under the sleeve all the way to the bottom and to the sleeve edge so the fabric doesn't shift when you move to the next step.
Step 5
Sew along the lower edges of the arms and along the sides, leaving openings at each sleeve and at the bottom. Use a 5/8-inch seam allowance.
Step 6
Turn under the hem allowance for the sleeves, neck edge and bottom of the robe. Press in place and sew by hand or machine. Around the neck edge, you may need to make short clips in with your scissors to keep the fabric from bunching when you sew it in place.
Step 7
Cut through the center front of the robe from top to bottom, being careful not to cut through both thicknesses of fabric. Turn under the seam allowance for the right and left center pieces. Press the fold and sew the seam.
Step 8
Hold the center of the robe closed using snaps or hook-and-loop closures. For an authentic touch, make three ties on either side from neck to waist and tie the robe to keep it from flapping open.
Tip
If you decide to line the robe, choose a bright accent color that will complement the outer color. Topstitch to match the lining color and to hold the lining in place.
If you inadvertently cut through both layers of fabric in Step 7, just sew together the back pieces with a 5/8-inch seam allowance and press open.
If you prefer a more dramatic sleeve, measure longer and run some elastic along the shoulder to bunch up the excess.