Things You'll Need
Protective insert

Duvet cover

Sewing kit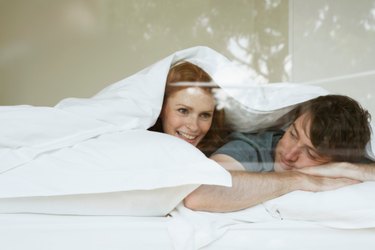 Down comforters can be incredibly warm and comfortable, but sometimes feathers can poke out from the lining and irritate your skin. Of course you want to keep all the filling intact, maintaining fluffiness and your chosen comfort level. There are a few steps you can take to reduce the occurrence of leaking feathers, whether you have chosen a high-, mid- or low-level down comforter or duvet.
Step 1
Choose the highest-quality comforter possible, with the highest fabric thread count you can find. Less space between fibers prevents feathers from poking out.
Step 2
Cover your comforter with a protective insert featuring a zippered closure. Place the comforter inside the insert before placing it inside a duvet cover.
Step 3
Place your comforter into a duvet cover. If covered, down comforters only need to be cleaned once every three to five years, according to the website Pacific Coast Feather Company. The duvet cover material will also provide a barrier against any loose feathers.
Step 4
Make your bed daily, fluffing the entire comforter each time to keep the filling aerated. Pressing the fill flat will push feathers out through the fabric fibers.
Step 5
Sew any seams closed as soon as you notice a rip or tear.