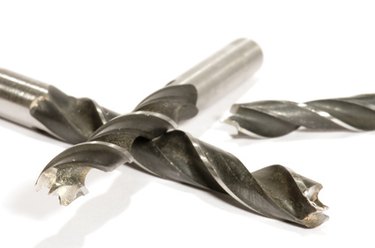 Carbide is a word that refers to a variety of carbon compounds. While there are several different types of carbide, tungsten carbide is the type most commonly used for cutting or drilling tools; it is very hard, relatively inexpensive, and will retain a sharp edge for a long time. While tungsten carbide is noted for its remarkable durability, a tungsten carbide tool may need occasional sharpening if it is used regularly.
Step 1
Determine if your tool needs sharpening. One easy way to decide if your tool is becoming dull is to see if it reflects light well. Shine is an indication of wear. You can also gently scrape a fingernail on a blade and see if it shaves off a sliver; if it does not, the blade is dull. Touch is not necessarily a good way to determine if a blade is sharp, as a dull carbide tool may still feel sharp.
Step 2
Find a professional sharpening service. Sharpening carbide is not recommended for non-professionals, as it requires skill and specific sharpening machinery. Imprecise sharpening can ruin a tool, and a professional can restore a blade to like-new condition.
Step 3
If you are interested in learning how to sharpen blades yourself, it is recommended that you locate a teacher.
Step 4
Carbide tools require diamond for sharpening, due to their hardness. Wet grinding using an abrasive wheel on an automatic grinder is a very precise method of sharpening. It is also possible to sharpen a tool by using a diamond lap, but this is very imprecise and time-consuming.