Things You'll Need
Weather stripping

Tape measure

Hammer

Nails

Ceiling fan

Blinds

Bleach

Spray bottle

Dehumidifier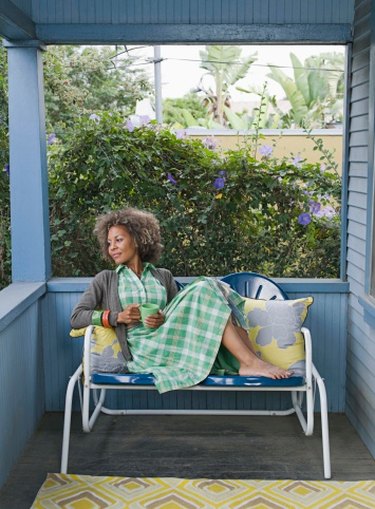 Mildew is a type of fungus that tends to grow in areas that have excessive moisture. A screened porch is open to the elements. During the evening, moisture will settle on the porch wood. Over time, the moisture becomes a likely bed for mildew. Although the screen itself will reduce the amount of moisture from outside that enters, screens are not nearly as effective as glass. Keeping the area clean reduces the chances of mold.
Step 1
Install weather stripping around the screen door to reduce moisture coming through the cracks. Measure the side, top and bottom of the door using a tape measure. Cut the weather stripping to the length of the door and hammer the stripping into place so that the door butts up against it.
Step 2
Install a ceiling fan at the top of the porch to keep air circulating in the porch. This prevents moisture buildup.
Step 3
Install blinds on the porch. Blinds can be opened when the porch is in use and lowered when it is not, reducing the amount of moisture entering.
Step 4
Mix together 1 cup bleach and 1 gallon water. Put the water into a bottle and spray the mildew, then wipe it away with a rag.
Step 5
Install a portable dehumidifier in the porch to reduce moisture levels.