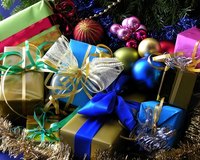 If you're looking for a gorgeous alternative to drab, store-bought Christmas tree skirts, look no further than your own closet. Many women keep their wedding gowns around without any intention of wearing them again, so why not convert these unworn dresses into something practical that will be used every year. Furthermore, its presence under your tree serves as a reminder of both your marital unity and the happiness you share at all times of the year.
Things You'll Need
Wedding dress
Seam ripper
Scissors
Tape measure
Pins
Sewing machine
Thread
Hand sewing needle
2 snap halves
Turn the wedding gown inside out and, using the seam ripper, remove the bodice from the skirt. Removing the seams rather than cutting into the fabric ensures that the pieces retain their finished edges, which makers of wedding dresses sew before the gown is put together. However, if the gown you are using does not have a waistline seam, you will need to cut into the fabric.
Cut a long slit into the side of the skirt. A good guideline for this slit is the zipper seam, if the gown has one. Remove any lining layers that you do not want to use on your Christmas tree skirt and set them aside. Using the tape measure, measure the distance you wish the skirt to cover, beginning at the tree's base and ending as far out as you like.
Superimpose the measurement taken onto the skirt, beginning at the waistline. Mark the end measurement with a pin, making sure you allow for any drapes or folds that you wish to incorporate. Repeat this process for the whole skirt until you have an evenly circular marking.
Cut the skirt along the hemline markings and finish off the freshly-cut edges with a zig-zag stitch to prevent any unraveling. At this point, you have two options. You can turn in the rough edges to give the skirt a smooth, polished look, or you can sew lace or other trimmings from the unused portion of the dress across the top of the edges. If you choose the second option, be sure to remove the trimmings with the seam ripper to avoid unnecessary damage to the fabric.
Position the skirt around the base of the Christmas tree and gather the waistline of the gown around the tree's stand. Determine how tight the skirt should be in relation to the tree's stump. and mark your measurement with pins at the point where the two sides meet.
Sew one half of the snap to either side of the skirt's waistline to enclose the tree skirt around the Christmas tree. Fluff the skirt around the tree's base as necessary.